Raymond Barion in Scenarios of Desire II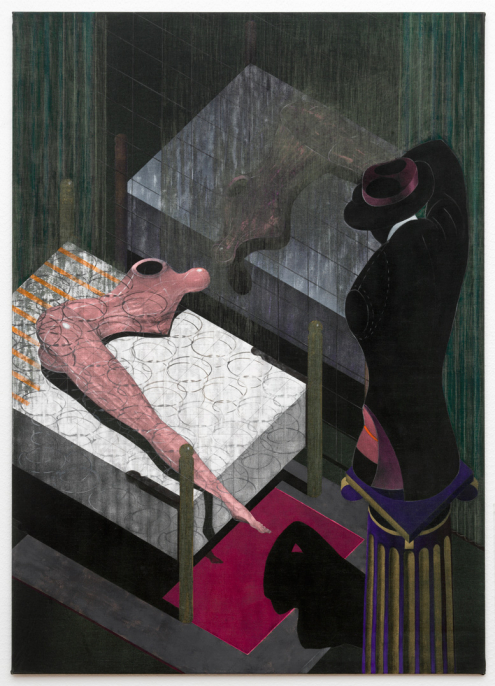 Raymond Barion in Scenarios of Desire II
Three works by Raymond Barion will be on view in the new exhibition Scenarios of Desire II from 5 July till 15 September at Emergent in Veurne, Belgium. Emergent is a platform for contemporary art, located in Huis De Valk, a 16th-century building on the Grote Markt in Veurne.
Scenarios of Desire II
Scenarios of Desire II, a duo and group exhibition, presents a counterweight to the volatility of photos flashing by on the internet. The exhibition shows artworks full of energy and life; works of art that move and develop at different speeds; works of art that insist on touching the world and in turn being touched by it.
Other artists in the exhibition are: Koen Delaere, Bas van den Hurk, Matthew Allen, Thomas Bakker, Matea Bakula, Marieke Berghuis, Julie Cockburn, Catharina Dhaen, Piet Dieleman, Jeroen Doorenweerd, Aleana Egan, Fergus Feehily, Tatjana Gerhard, Sanne Jansen, Tyrell Kuipers, Antonietta Peeters, Fawn Rogers, John Stezaker, Jolijn Van Den Heuvel, Jochem Van Laarhoven, Dan Van Severen
artworks in the exhibition
In the paintings Figure on bed with torso (2019) and Figure on bed with dog (2019), Barion stresses the relationship between watching and being watched. The ubiquitous views in Barion's work are reminiscent of surveillance images of CCTV cameras. He emphasizes how, in contemporary society, we are constantly being watched and controlled by new technologies.
In Figure on a bed with torso from 2019 we see a Chirico-like torso watching upon a figure on bed. This mannequin figure with amputated arms resembles 'De Stronk', main character in Paul van Ostaijen's book 'De bende van de stronk' (1965). While being unable to move and being watched by other men, De Stronk sees his wive cheating on him.
In Figure on bed with dog from 2019, there lies an amputated mannequin on bed, in presence of a dog, attentively waiting for his boss. Barion represents the tragic story of Actaeon, the famous hunter who fell to the fatal wrath of the Greek Goddess Artemis. The hunter became the hunted; he was transformed into a stag, and his raging hounds tore him apart as they would do to a stag.
A third painting shown in the exhibition is Black room, made in the period 1991-2017. It's a monumental painting of another mannequin in a black room. Barion experiments in this painting with linear perspective, drawing the viewer into the intimate but estranging space of the figure. Read more about Barion's use of perspective and his previous exhibition at Upstream Gallery here.
Publication date: 15 Jun '19