LifeDress by Alicia Framis among 6 best artworks at Art Basel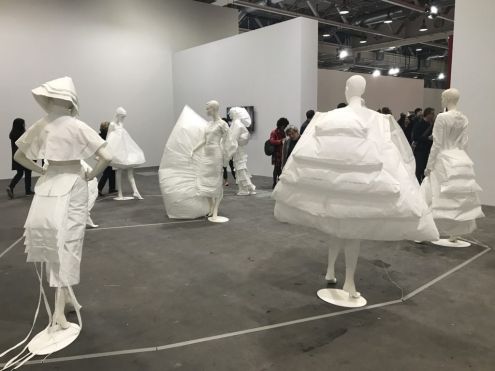 LifeDress by Alicia Framis among 6 best artworks at Art Basel
According to artnet, LifeDress (2018) by Alicia Framis is one of the six best—and riskiest— artworks at Art Basel Unlimited, where the fair's supersized artwork shines. Read the full review here.
LifeDress
Sometimes reality is so harsh that it warrants a surreal response. The Barcelona-born, Amsterdam-based artist Alicia Framis adopts this attitude in her installation LifeDress, an ensemble of nine women's outfits fabricated from automobile airbags, each designed to protect the wearer by inflating when they encounter harassment in the workplace.
An air compressor periodically sends the various dresses billowing over their respective mannequins, while an absurdist live-action video shows actual women wearing the same garments in nondescript office environments populated by silent businessmen. The effect hovers somewhere between black comedy and justified alarm, as Framis leaves viewers to contemplate the unforgivable proximity between women's fashion and vulnerability in contemporary society.
Forbidden Collections
In 2018, Upstream Gallery organized the first solo exhibition of Alicia Framis, showing two collections: LifeDress and Is My Body Public? Read more about this exhibition here.
Publication date: 15 Jun '19