Rafaël Rozendaal in PostmastersRoma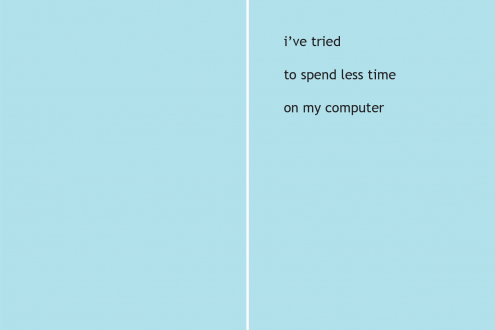 Rafaël Rozendaal in PostmastersRoma
Rafaël Rozendaal will inaugurate PostmastersROMA new permanent space with his exhibition called 'Nervous'.
Nervous, is an exhibition of 13 unique Haiku works, directly painted onto the wall; each comprising a standard color (five to choose from) and a broadly available font (Trebuchet). Accompanied by a sales contract, the works can only exist in one location at a time. They are transferable, in a similar fashion to the Sol Le Wit drawings; erase, choose a new space and paint again. The first installation for collectors in Rome is offered as courtesy by Postmasters Gallery. Easily collectable and indestructible, the works take no storage space, yet when displayed they exist in reality as paintings. Essentially, a perfect artwork for the minimalist times.
In short, the Haiku works are precise, laconic and focused, exactly in synch with Rozendaal's aesthetic and ideology; they are distilled thoughts, brain shortcuts, the essence of universal truths, ideas and sentiments about the mundane.
The selected Haikus in the show reveal the anxiousness of our time. Things we all think, thoughts our brains produce, self doubt, deprecating slants, desires, slight annoyances and frustrations.
PostmastersROMA has a new permanent space located on via G. Mario Crescimbeni, 11 in Rome just next to the Colosseum.
The exhibition is supported by the Embassy of the Kingdom of the Netherlands and the Royal Netherlands Institute in Rome.
The gallery and exhibition is opening with a celebration on 20 June 2019 and Nervous is visible until July 26, 2019
Image: Haiku, Rafaël Rozendaal
Publication date: 13 Jun '19