Constant Dullaart in exhibition 'Uncanny Values' at MAK, Vienna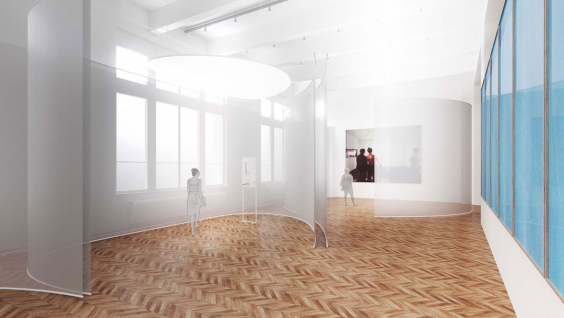 Constant Dullaart in exhibition 'Uncanny Values' at MAK, Vienna
The work of Constant Dullaart is uncluded in the exhibition UNCANNY VALUES: Artificial Intelligence & You at MAK, Vienna. In the exhibition the MAK is exploring one of the most important subjects of the coming decades, one that has significant consequences for all areas of our lives: artificial intelligence (AI).
In order to understand, help shape, and sensibly implement the potentials of artificial intelligence and the associated technologies, we need a new cultural sensibility, and this exhibition seeks to stimulate that. Installations in various media by 18 international artists and designers spread out in a generous parcours enhanced by examples and scenarios from current applications of AI.
It is exactly 100 years ago that Sigmund Freud wrote "The Uncanny." The Japanese roboticist Masahiro Mori coined the term "uncanny valley" for machines that are so humanoid that we shudder. It is therefore unsurprising that machines that can learn, think, and act seem uncanny. AIs are increasingly part of our lives, our social connections, our political and economic activity. This raises the question what sort of a living creature the omnipresent AI already is and will become.
In society, politics, business, ecology—in short, as a civilization—we have to develop new values together with our machines. UNCANNY VALUES: Artificial Intelligence & You opens up a number of perspectives on an area that is developing rapidly but is, at the same time, increasingly difficult to understand. The exhibition centers on questions of culture and technology, being human, power, control, and orientation in the uncanny valley of artificial intelligence.
Artists and designers:
Rachel Ara, automato.farm, Mladen Bizumic, Tega Brain, Julian Oliver and Bengt Sjölén, James Bridle, Giulia Bruno und Armin Linke in cooperation with Luc Steels, Kate Crawford, Vladan Joler, Simon Denny, Heather Dewey-Hagborg und Chelsea E. Man-ning, Constant Dullaart, Lynn Hershman Leeson, David Link, Jonas Lund, Trevor Paglen, Philipp Schmitt und Steffen Weiss, Superflux und Jorinde Voigt.
29 May - 6 October
Publication date: 24 May '19