JODI at InterCommunication Center, Tokyo, Japan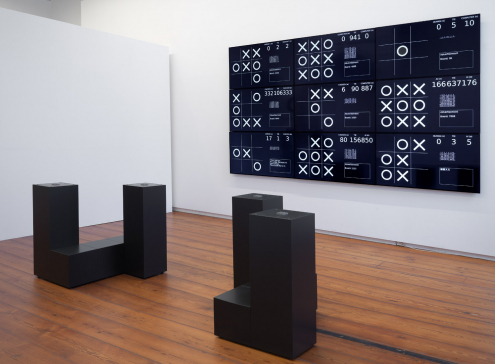 JODI at InterCommunication Center, Tokyo, Japan
JODI's "OXO" (2018) features in the Open Space exhibition at NTT InterCommunication Center [ICC] in Tokyo, Japan. The exhibition runs from May 18 2019 till March 1 2020.
Open Space
"Open Space" is a series of exhibitions designed to introduce works of media art and other forms of artistic expression born out of today's media environments, to a broad audience. On display are leading works from the realm of media art; artworks incorporating cutting-edge technologies and/or expressing critical standpoints; works by promising young artists; and in addition, projects that are currently in progress at various research institutions. Accompanied by explanatory notes that help understand the respective pieces, exhibits are not only presented to view and enjoy, but the series at large aims to encourage visitors to think about backgrounds and contexts such as today's diversified forms of media and communication, technology-driven contemporary society, future prospects, and in addition, new sensibilities and aesthetics.
The exhibition in 2019 is titled "Open Space 2019: Alternative Views." Inspired by the way our ideas and perceptions are continuously updated through alternative views of the world that we have been adopting, this exhibition attempts to approach the world and technology in particular in different ways, and present alternative views of all kinds of things by way of media.
Also on the schedule during the exhibition period are a number of related programs including talk sessions, lectures, symposia and workshops with artists and experts, as well as guided tours around the exhibits with explanations by the curatorial staff. In addition, various related events with international guests are planned to be held in cooperation between NTT laboratories and other cultural institutions.
"Open Space" was launched in 2006 as a series of gallery exhibitions with annually changing themes and contents, as well as free access to other facilities including the small theater and the "HIVE" video archive. According to the general philosophy behind ICC's activities, the series was installed as an open showcase introducing the possibilities of art and communication incorporating cutting-edge technologies to a broad audience.
Exhibiting Artists and Works
- Aoyagi Natsumi "Her Rights: The Turk of Frankenstein, or The Modern Prometheus" 2019, new work
- Gregory Barsamian "Juggler" 1997 (ICC Collection)
- Goto Akinori "ENERGY #01" 2017, "toki- Numbers #01" 2017, "Rediscovery of anima" 2018
- Hosoi Miyu "Lenna" 2019, new work
- Iwai Toshio "Marshmallow Scope" 2002
- Iwai Toshio "Marshmallow Monitor" 2002
- JODI "OXO" 2018
- Manabe Daito + Sakamoto Yoichi + Ishii Tatsuya "Light Field Theater" 2018
- Rosa Menkman "Behind the White Shadows of Image Processing" 2019 - Mikami Seiko "Eye-Tracking Informatics" 2011/19
- Shinseungback Kimyonghun "Nonfacial Portrait" 2018
- Umeda Hiroaki, new work
OXO
Jodi's OXO is inspired by early computing and war games, but primarily by Noughts and Crosses or OXO, a game built in 1952 by Alexander S. Douglas. Though versions of tic-tac-toe had existed for centuries, Heemskerk said that Douglas's game was the first to allow humans to play against a computer.
Image: JODI, "OXO" (2018), Raspberry Pi 3, flatscreens, custom keypads, wood, Variable sizes, photo: Gert Jan van Rooij.
Publication date: 10 May '19