TATE London acquires the film Los Andes by Cristóbal León & Joaquín Cociña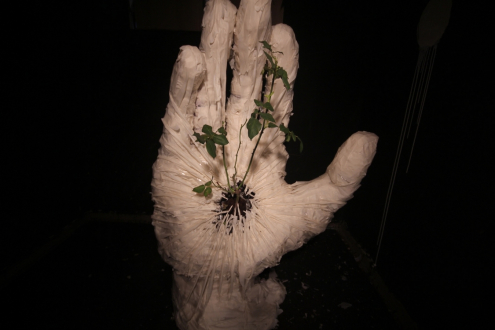 TATE London acquires the film Los Andes by Cristóbal León & Joaquín Cociña
Upstream Gallery is pleased to announce that the TATE London has acquired the film Los Andes by Cristóbal León & Joaquín Cociña.
With their experimental films, León & Cociña create a new interpretation of the religious symbolism and magical rituals that are deeply rooted in the traditional culture of Latin America. The surrealistic, esoteric films of Chilean underground filmmaker Alejandro Jodorowsky but also the aesthetics of children's fairy tales are sources of inspiration for the duo. A distinctive, unpolished cinematographic language furthermore characterizes the stop- motion films by León & Cociña. The paper mache figures and innocent-looking drawings strongly contrast with the heavy topics such as religion, sex and death that the films deal with. Influenced by psychoanalytic theory, the artists seem to tap from a nightmarish collective subconscious. Their world is populated by sinister shadows and creatures that are constantly subject to metamorphosis, and seem to come straight from a hallucination or a fever dream. Yet the atmosphere can shift quickly and the ominous creatures dissolve as quickly as they appeared.
León and Cociña won several awards and their films are selected regularly for international film festivals. Their work is frequently exhibited in museums and biennials in Latin America and it has also been presented at venues such as the Whitechapel Gallery, the Guggenheim, KW Berlin, the Venice Biennial 2013, Eye Filmmuseum Amsterdam in 2016 and Art Basel Statements 2012 with Upstream Gallery. Last year they finished their first full-length film 'La Casa Lobo' for which they set up their studio in many different locations. The Premiere of La Casa Lobo took place at the 68th Berlinale Forum, Berlin, Germany where La Casa Lobo was awarded the Caligari Film Prize. The film had it's premiere in the artworld at Art Basel Miami Beach 2018 and will have it's Dutch premiere at Eye Filmmuseum on the 16th of April.
The acquisition of the work by Cristóbal León & Joaquín Cociña is made possible with the generous support of Fundacion AMA.
Publication date: 3 Apr '19