Alicia Framis in exhibition 'Your Voice Matters', Museum Arnhem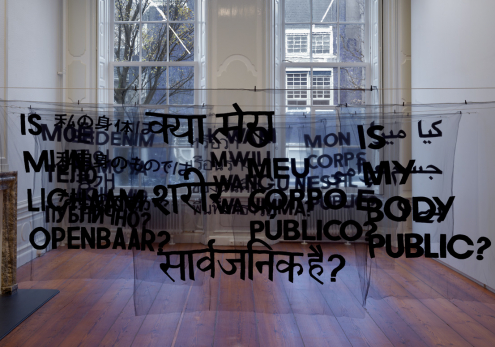 Alicia Framis in exhibition 'Your Voice Matters', Museum Arnhem
Work by Alicia Framis is included in Your Voice Matters, a group exhibition at Museum Arnhem from 8 March till 12 May.
Your Voice Matters
On the 8th of March, Museum Arnhem opens its temporary exhibition space for contemporary art and design 'De Kerk' with the exhibition Your Voice Matters. This exhibition shows a critical view towards questions of gender and diversity. It presents projects that hope to trigger positive change.

The project Is My Body Public? by Alicia Framis is included in the exhibition. Is My Body Public? is a collection that explores the borders between what is public and private in our everyday lives. The dresses resemble the aesthetics of women's lingerie but are in fact banners for demonstration. The text 'Is my Body Public' is embroidered on every dress in 15 different languages, representing women worldwide. The fabric of the dresses is very fragile, and the work is subtle, but the message is strong. With Is My Body Public?, Framis questions what is public and what is still private in today's world.
Image: Alicia Framis, Is My Body Public? in the exhibition Forbidden Collections at Upstream Gallery (2018-2019).
Publication date: 5 Mar '19