Rafaël Rozendaal solo show at Postmasters Gallery, New York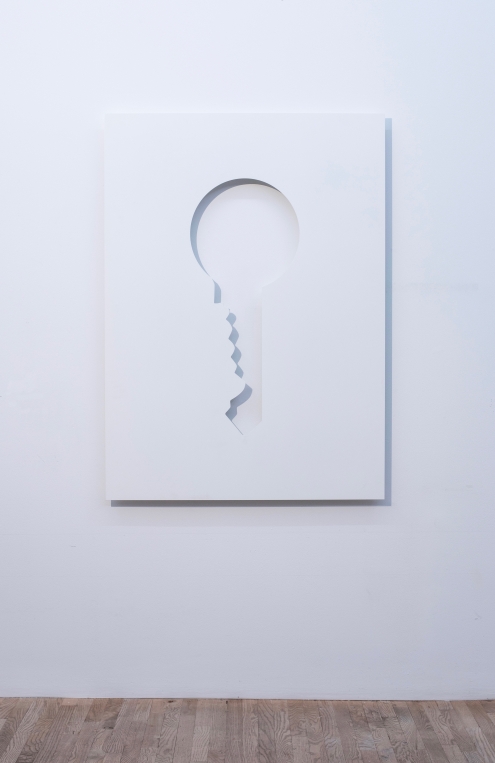 Rafaël Rozendaal solo show at Postmasters Gallery, New York
Rafaël Rozendaal opens his fourth solo exhibition Don't do too much with Postmasters Gallery (New York) on Saturday, January 12. The exhibition runs until February 23.
don't do too much
i don't really work with materials… i don't code, i don't print, i don't weave, i don't paint, i don't draw…..like most people, i'm glued to my screen. it feels like i never work, it feels more like waiting. the work appears and then i wait again, for the next one.

- Rafaël Rozendaal

Rafaël Rozendaal's most recent series of works are shadow objects of deceptive simplicity that fluctuate between an image and an object, a drawing and a sculpture. In what can be considered the shortest path from digital to physical, Rozendaal creates shapes which are coded to be cut by computer out of rectangular plates of white steel.
To Joseph Kosuth's One and Three Chairs (1965) canonical trinity of language, picture, and referent, Rozendaal proposes a fourth element of meaning: the virtual. These are man-conceived, machine-made objects, where a line of code cuts a line in metal, becoming a line frozen in the material world, but also a void. This void, the negative of the shape, is activated by light; the shadow cast on the wall defines the image of an object that is not there.
Rozendaal's new works mirror the digital realm, where drop-shadows lend the illusion of presence and form to immaterial, virtual objects. And where graphics software facilitates instant inversion, toggling between mask and background, object and absence. These contemplative voids and the shadow objects they create counter the cacophony and information overload of online life.
image
Rafaël Rozendaal, Shadow Object 18 09 09, 2018.
Publication date: 8 Jan '19