Marinus Boezem in exhibition Revolutionize! at Mystetskyi Arsenal, Kiev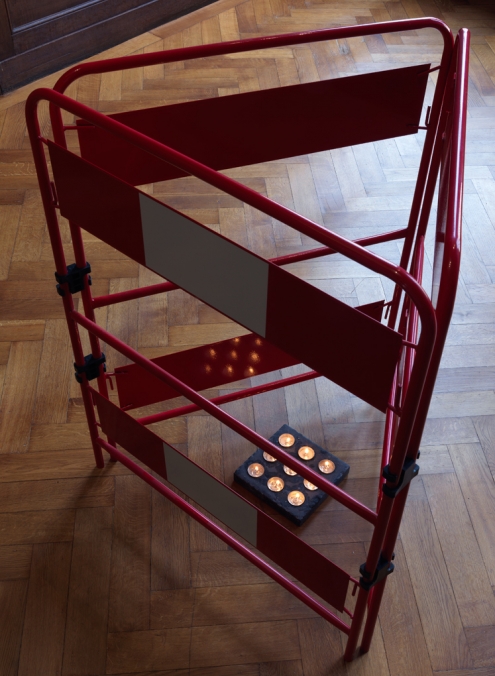 Marinus Boezem in exhibition Revolutionize! at Mystetskyi Arsenal, Kiev
The work of Marinus Boezem is included in the group exhibitioin Revolutionize! at the Mystetskyi Arsenal in Kiev, Ukraine.
revolutionize!
'Revolutionize!' exhibition opened on November 21st at Mystetskyi Arsenal. It is an international research and exhibition project that brings together art and museum institutions from Ukraine and the Netherlands.
36 contemporary artists and art groups from 15 countries through the language of installation, painting, multimedia, video and photo speak about the revolutionary events, and analyze the revolution as a social phenomenon. A personal, critical, andretrospective view focuses on a special historical event – the Revolution of Dignity. The exhibition also presents artifacts from the National Museum of the Revolution of Dignity collection.
Participants' and artworks' diversity is an attempt to go beyond the already acquired patterns of the Revolution of Dignity perception. 'Revolutionize!' puts Ukrainian events into a wider world context, presenting simultaneously the uniqueness and universality of certain situations, events and phenomena. The exhibition demonstrates that the aspiration for freedom, decent living standards, respect for citizens are the universal values shared by all people.
The project creates a possibility for visitors to explore, recall, discuss, leave their thoughts about the Revolution of Dignity. The exhibition provides a platform for an open discussion about the role of art and artists during the revolution and the ability/capability to talk about recent historical events in the language of art.
Project curators: Kateryna Filyuk (Ukraine), Nathanja van Dijk (Netherlands)
Organizers: National Art and Culture Museum Complex 'Mystetskyi Arsenal', National Memorial to the Heroes of the Heavenly Hundred - Revolution of Dignity Museum, 'A Tale of a Tub' Foundation (Netherlands).
image
Marinus Boezem, Momentum, 2017. Photo: Gert Jan van Rooij.
Publication date: 29 Nov '18