Coming up: Upstream Gallery at Art Basel Miami Beach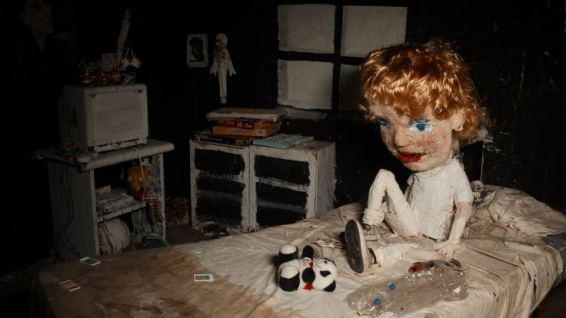 Coming up: Upstream Gallery at Art Basel Miami Beach
Upstream Gallery presents the first feature film La Casa Lobo ('The Wolf House') by Chilean artist duo Cristóbal León & Joaquín Cociña at Art Basel Miami Beach 2018.
León & Cociña, whose work was also on show at the Latin American pavilion of the Venice Biennal 2013, the Whitechapel Gallery, the Guggenheim and KW Berlin, have been working on the creation of La Casa Lobo since 2013. The artist duo has since created a monumental feature film with an impressive duration of over 60 minutes. The film was shot frame by frame using digital photography, resulting in a single sequence shot. For the incredibly time-consuming production process, they initiated a nomadic studio project setting up temporary workshops in museums and other art institutions. Starting at Upstream Gallery in 2013 during their exhibition Flowers, the studio has traveled to Casa Maauad in Mexico City, Modern Art Museum Buenos Aires, Contemporary Art Museum of Chile and the Media Arts Biennale in Santiago de Chile among other locations. Each time, La Casa Lobo was presented as a work in progress. And by making the set part of the exhibition, the working process itself is turned into an artwork.
With their experimental films, León & Cociña create a new interpretation of the religious symbolism and magical rituals that are deeply rooted in the traditional culture of Latin America.
La Casa Lobo premiered at the 68th Berlinale in 2018, where it was awarded the Caligari Film Prize. Since then it was selected for several lm festivals around the world where León & Cociña won many awards and prizes, among which the Public Prize and Best Cinematography Prize at FicValdivia (Chili), Best Animated Feature Film at FicMonterry (Mexico), Best Latin American Film at Quito Latin American Film Festival (Ecuador), Jury Distinction at Annecy Film Festival (France), GNCR Prize Special Mention at FidMarseille (France) and the Special Mention of the Jury at Future Film Festival Bologna (Italy).
Publication date: 26 Nov '18