Book launch Marinus Boezem 'The weather in Moscow looks good'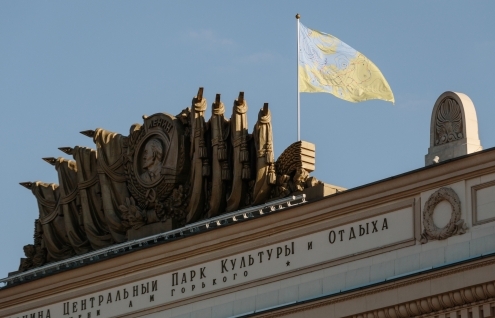 Book launch Marinus Boezem 'The weather in Moscow looks good'
book launch: 25 November, 15.00
On Sunday, November 25, at 15.00h Upstream Gallery will host the book launch of The weather in Moscow looks good, a reportage of the conceptual framework, the implementation and the outcomes of the exhibition Dell'Uomo with works by Marinus Boezem at Gorky Park Museum is Moscow. Curator Robbie Schweiger and author Marian Cousijn will look back on the challenging process in a dialogue with each other and with the audience. Each book, published in a limited edition of 200 designed by Tariq Heijboer, has a unique cover, which all together form one of Boezem's works which was exhibited in Moscow. Come by to drink, listen, discuss and don't forget to get your unique signed copy for the special pre-sale price of 20 EUR!
Dell'Uomo
In the summer of 2018, the first Russian exhibition of Marinus Boezem's work took place in, around and even on top of the Gorky Park Museum in the centre of Moscow. Dell'Uomo, Italian for 'about man', told a story about how people relate to their environment. The title of the exhibition refers to Boezem's entire body of work since most of his research focuses on mankind and how people think in terms of opposites, how they categorise, schematise, label, measure and map things.
Image: Marinus Boezem, Untitled, 2018. Photo by Konstantin Smigla.
Publication date: 14 Nov '18