JODI in exhibition 'Glitch Art' at Kuntsi Museum, Vaasa, Finland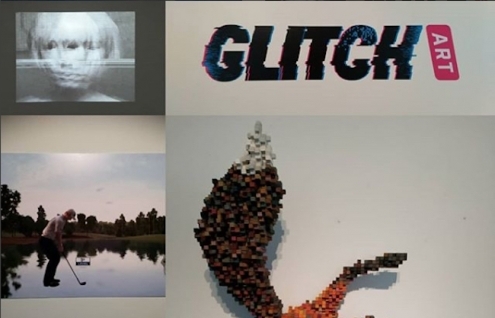 JODI in exhibition 'Glitch Art' at Kuntsi Museum, Vaasa, Finland
JODI's work is part of the exhibition Glitch Art at the Kuntsi Museum of Modern Art in Vaasa, Finland. The exhibition runs until January 13.
glitch art
Glitch Art is an exhibition exploring the theme of faults in information technology, information systems and user interfaces, so-called "glitches". This exhibition, which is pioneering even by Nordic standards, combines art and science and approaches the subject from a variety of angles, challenging the viewer.
The exhibition is produced by Kuntsi Museum of Modern Art in collaboration with the University of Vaasa. The curator of the exhibition is Tanja Sihvonen, Professor of Communication Studies at the University of Vaasa, a game researcher and an expert in digital media.
Pixel Sculptures and Games to Play
The exhibition Glitch Art features works by Finnish and international artists as well as works from Vaasa City museums' own collections. Some of the works will be on display for the first time in Finland, for example the installation by Rosa Menkman, a Dutch pioneer in glitch art, and the pixel sculptures by artist Shawn Smith, which have come to the exhibition from Beirut via Paris.
The exhibition includes works by the following artists: Tomi Dufva (FI), Miklos Gaál (FI), Antonio Roberts (UK), IC-98 (FI), JODI (NL/BE), Nandita Kumar (IN), Jani Leinonen (FI), Sami Lukkarinen (FI), Rosa Menkman (NL), Peder Norrby (SE), Maija Närhinen (FI), Riiko Sakkinen (FI), Shawn Smith (USA), Anu Tuominen (FI), Bouke de Vries (NL).
Along with the works of art, the exhibition will include some of the most interesting game failures from the 1980s and 1990s, computer viruses from the 1990s' collection of Mikko Hyppönen and different kinds of robots that no longer work or do not function as planned yet.
In connection with the exhibition, there will be workshops for groups of schoolchildren and students where they will be able to try and make glitches of their own under the guidance of experts. On October 13th, the national Day of Failure, guided tours and a special programme celebrating failures will be organised at the museum. In November, a seminar open to the public will be arranged where scientists and experts will examine the theme from different angles.
Publication date: 23 Oct '18