Dennis Rudolph at the DTLA Film Festival in Los Angeles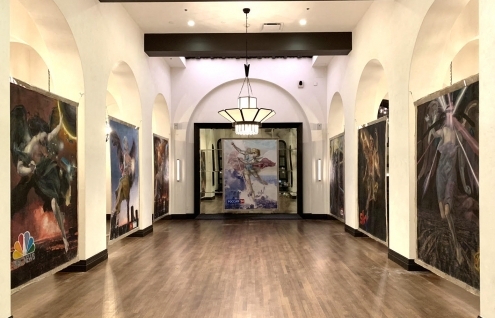 Dennis Rudolph at the DTLA Film Festival in Los Angeles
Dennis Rudolph is showing his recent project The Portal at the Immersive series at DTLA Film Festival.
DTLA Film Festival: Immersive showcases the best new Virtual Reality, Interactive Visual Narrative, Augmented Reality, as well as location-based Hyper Reality experiences that extend beyond the headset-- all of which reimagine traditional cinema.
The Portal- Messengers of the AI' is a Gesamtkunstwerk, that will be displayed in the new Immersive series at this years DTLA Film Festival.
Attendees will enter an installation surrounded by 17th-century illusionistic oil paintings, a 'Hollywood meets Richard Wagner' 7 act symphony and finally, wearing Microsoft Hololens Augmented Reality headsets, attendees will watch as weightless 'Neon Baroque' Angels, pulsating in unison with the symphony, explode out of the paintings around them.
'Messengers of the Ai' is a collaboration between Dennis Rudolph and Justin Ryan Polisky, with technical support from Eno Henze and NSYNK Studios

The Installation is in the Gran Sala Room at Hotel Figueroa
939 S Figueroa St, Los Angeles, CA 90015
Parking can be found in the lot north of Hotel Figueroa, on Figueroa St.
Admission is every 30 Minutes:
Friday, October 19th 5pm-11pm
Saturday, October 20th 6pm-11pm
Sunday, October 21st 6pm-11pm
Admission is free and open to the public
More info: http://www.dtlaff.com/immersive/
Please RSVP to ian@dtlaff.com


Support for The Portal: Messengers of the AI was generously provided by Bernd Kahnert and the Poolhaus-Blankenese foundation, in association with DTLA Film Festival: Immersive, Hotel Figueroa and Goethe-Institut.



Publication date: 19 Oct '18