Harm van den Dorpel in group exhibition 'E-state Realisms' at Art Center South Florida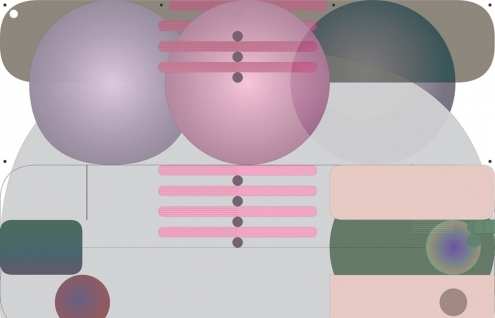 Harm van den Dorpel in group exhibition 'E-state Realisms' at Art Center South Florida
Work by Harm van den Dorpel is part of the group exhibition E-state Realisms at Art Center South Florida.
e-state realisms
As our digital and analog worlds continue to merge, we are only beginning to understand the profound effects this change is having on our society. How then, might we use art to understand how the internet is shaping our lives? How does art move through that digital space – and what does that mean for an artwork's value?
ArtCenter/South Florida's new exhibition, E-State Realisms explores these and other issues emerging in the digital age. It's departure point is a pre-Internet phenomenon that set the stage for these challenges. The exhibition starts with rarely-exhibited works by the GALA Committee, the artist collective created by conceptual artist Mel Chin in the 1990s. The collective flooded the popular soap opera Melrose Place with artworks as props in disguise. These works were later traded at auction with this broadcast value factored in. In doing so, the collective demonstrated how narrative and value had foreclosed on one another. The popularity of this soap opera not only proved how value was transferred on to an artwork, it perpetuated the postmodern logic that the meaning of art is constructed by viewing.
The internet has since amplified the reach of media beyond broadcast radio and TV into a global marketing megastructure — a new architecture of information. Artworks are now made to exist in two realms: the physical one from which they originate, and the digital one in which they continue to circulate globally. This digital manifestation of the object becomes a negation of the artwork, precisely because it creates a system of value based on circulation, not proximity or ownership. This paradigm suggests a shift toward a new art ecology, one where art depends on the reproduction and distribution in the marketplace for its sustenance. Complicity is inevitable for all involved: the artist, curator, institution and spectator alike.
The pieces in this exhibition, which begins with a GALA Committee work, tackle a range of topics from blockchain, to luxury real estate and e-commerce. Some are documents of pieces that exist purely online. Together, they seek to peel back a layer of our world, and use artistic interventions to demonstrate how digital landscapes shape our everyday reality.
what, when, where
E-state Realisms
25 July - 30 September 2018
Art Center South Flordia, 924 Lincoln Road, 2nd Floor, Miami Beach
image
Harm Van Den Dorpel, Readjustments Electrotype, Token from Nested Exchange Series, March 2018.
Publication date: 26 Jul '18