JODI in 'Difference Engine' Exhibition at Lisson Gallery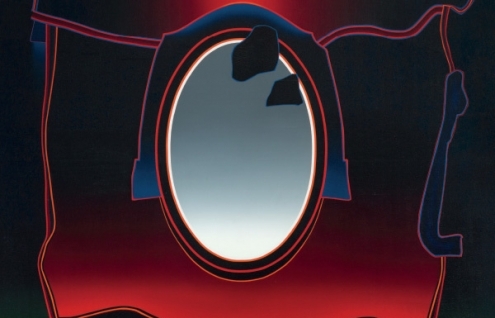 JODI in 'Difference Engine' Exhibition at Lisson Gallery
Work bij JODI will be on view in the exhibition 'Difference Engine' at Lisson Gallery, New York. The exhibition opens June 29, and will run untill August 10.
Difference Engine
Lisson Gallery presents 'Difference Engine', an exhibition curated by Cory Arcangel and Tina Kukielski.
Emerging from two poles—the machine's mechanistic logic on the one hand and the fetishistic objectivity of surrealism at the other—the works in 'Difference Engine' explore the art of contradiction.
André Breton's surrealist doctrine of objective chance drew inspiration from a now well-known, singular quote by the young poet Comte de Lautréamont who tragically died at the age of twenty-four: "The chance encounter of a sewing machine and an umbrella on an operating table." Difference Engine explores a similar conceit, ripe with the undercurrents of our twenty-first century technological narcissism set in stark contrast to its utopian possibilities.
The exhibition's title is taken from Charles Babbage's name for his invention of a calculating engine powered by a cranking handle that, upon its completion in 1832, would be the first automated mechanical calculator. Furthering the allusion, a 1990 sci-fi novel of the same name by William Gibson and Bruce Sterling would play a significant role in the setting off of the genre of steampunk through its envisioning of a speculative reality sprung from this historical turning point.
The works in Difference Engine embrace an uncanny or nauseated condition that is nonetheless replete with humor and comic relief. The miracle and misery of the information age is explored. The beauty and grotesque of pop syncopates against a curious and contradictory surrealist imaginary. Artists include Cory Arcangel, Carol Bove, Jacob Ciocci, Aleksandra Domanović, Lonnie Holley, Jamian Juliano-Villani, JODI, Konrad Klapheck, Guthrie Lonergan, Michel Majerus, Jayson Musson, Deborah Remington, Hayley Silverman, Jessie Stead, Paul Thek and Ernest Trova.
WHAT, WHEN, WHERE
Difference Engine
29 June - 10 August
Lisson Gallery
504 West 24th Street
New York
Publication date: 27 Jun '18