Frank Ammerlaan in exhibition 'Shelter' at Museum Catharijne Convent, Utrecht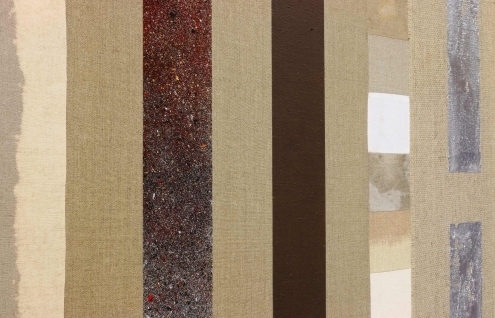 Frank Ammerlaan in exhibition 'Shelter' at Museum Catharijne Convent, Utrecht
Frank Ammerlaan shows new work in the summer exhibition Shelter at Museum Catharijneconvent in Utrecht.
Shelter
This summer the monastery of Museum Catharijneconvent celebrates its 550th year with the exhibition Shelter. Works by international contemporary artists entering a surprising exchange with the monastery and the precious collection.
Frank Ammerlaan, Daan van Golden, Marlene Dumas, Damien Hirst, Jan Taminiau, Carl Andre, Danh Vo, Sarah van Sonsbeeck, Duane Hanson, Kerry James Marshal, Pieter d'Hont, Peter Vos, Ad Dekkers, Robert Longo, Roy Villevoye & Jan Dietvorst, Nola Hatterman, Pauline Curnier Jardin, James Lees Byars, Janis Rafa, Douglas Gordon.
Guest curator: Bart Rutten (artistic director Centraal Museum Utrecht)
what, when, where
Shelter
1 July - 9 September 2018
Museum Catharijneconvent, Lange Nieuwstraat 38, Utrecht
image
Frank Ammerlaan, Detail of Untitled, 2018. Dust, dirt, meteorite particles, embroidery on (bleached) canvas, linen and jute. 170 x 315 cm.
Publication date: 22 Jun '18