Marinus Boezem and his inspiration Yves Klein together in group exhibition MAMAC, Nice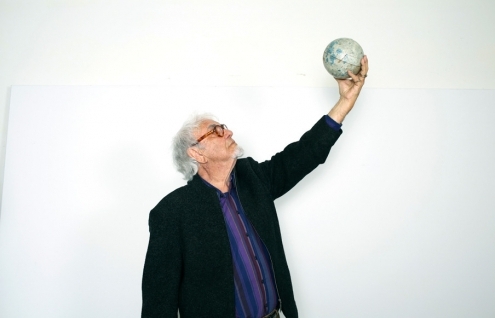 Marinus Boezem and his inspiration Yves Klein together in group exhibition MAMAC, Nice
Next to Upstream Gallery's solo presentation of early works by Marinus Boezem at Art Basel 2018 (June 14-17, Feature Section, Booth J9), the work of Marinus Boezem can be seen in various exhibitions this summer.
Cosmogonies, au gré des éléments
Marinus Boezem's work is part of the group exhibition Cosmogonies, au gré des éléments at MAMAC (Musée d'art Moderne et d'art Contemporain) in Nice, France. The exhibition includes work from, among others, Marina Abramovic, Piero Gilardi, John Cage, Hans Haacke and Yves Klein.
The exhibition focuses on the influence of the elements and nature in the work of different generations of artists since the 1960s. The artists included in the exhibition all worked with unconventional materials, like wind, light and other natural phenomena. All of them reinvest in their own way the reflections and experiments initiated by Yves Klein at the dawn of the 1960s, when he started "to record the signs of atmospheric behavior by receiving on a canvas the instant traces of spring showers, southerly winds and lightning."
Yves Klein was a great source of inspiration for Marinus Boezem. It is a great honor for him to be exhibiting next to (and in the birthplace of) one of his heroes. Boezem will be showing Weather Drawings (1969), which symbolize the changeable and immaterial character that often comes forward in his work.
what, when, where
Cosmogonies, au are des elements
June 9 - September 16 2018
MAMAC, Place Yves Klein, Nice, France
Images
Marinus Boezem with moon globe, a reference to Yves Klein. Photo: Lana Mesic.
Yves Klein with floating globe, by Harry Shunk and John Kender, 1961.
Marinus Boezem, Weather Drawing, 1969.
Publication date: 8 Jun '18