Frank Ammerlaan in group exhibition 'Avesso Viés' at SIM Galeria, São Paulo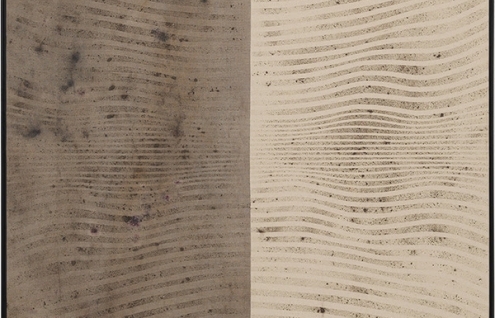 Frank Ammerlaan in group exhibition 'Avesso Viés' at SIM Galeria, São Paulo
New work of Frank Ammerlaan is part of the group exhibition Avesso Viés at SIM Galeria in São Paulo, curated by Paulo Miyada. The exhibition contains artists that work with flexible materials, like textile, in different ways. As Miyada states: "For this exhibit the artists chosen encompass a range of flexible materials, either natural or synthetic, and impose on them gestures of sudden actualization of their presence as object and as sign: to cut, stain, twist, shred, fray, turn inside out."
More information on the exhibiton here.
WHAt, when, where
Avesso Viés
Opening Saturday June 9, 11-15h
June 9 - July 21
SIM Galeria, Rua Sarandi 113A, São Paulo, Brasil
Image
Frank Ammerlaan, Untitled, 2017. Dust, dirt, Oscar Niemeyer Museum dust on linen and canvas, 140 x 120 cm.
Publication date: 8 Jun '18