Solo exhibition Marinus Boezem 'Dell'Uomo' in Gorky Park Museum, Moscow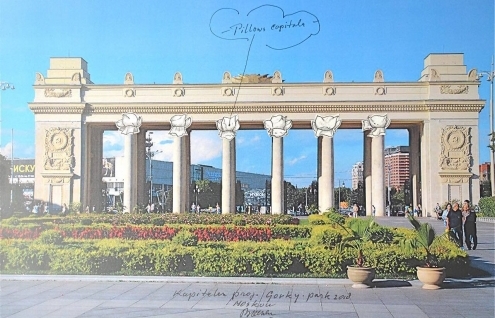 Solo exhibition Marinus Boezem 'Dell'Uomo' in Gorky Park Museum, Moscow
Next to Upstream Gallery's solo presentation of early works by Marinus Boezem at Art Basel 2018 (June 14-17, Feature Section, Booth J9), the work of Marinus Boezem can be seen in various exhibitions this summer.
dell'uomo
Dell'Uomo is the first solo exhibition of Marinus Boezem in Russia. The exhibition opens on June 21st at the Gorky Park Museum in Moscow and is curated by Robbie Schweiger. For the exhibition, that runs until August 5, Boezem has created new work in response to the architecture of the museum and five site-specific adaptions of existing works.
The title Dell'Uomo ('about man') derives from Boezem's interest in the relation of the human being to all things surrounding him. Since the early sixties, Boezem has explored the human desire to understand and control its environment by categorizing, schematizing, appropriating, mapping, and dividing the world into manageable pieces. Despite these attempts to systemize and simplify the world, it seems to become more and more complicated, politically, socio-culturally, environmentally, and economically.
The works exhibited in Dell'Uomo vivisect the human framework of control and understanding, and reveal how 'things' refuse to fit human-constructed categories, stretch the fabric of understanding, and have their own agency, agenda, and point of view: characteristics considered exclusively human for a long time. The exhibition explores the space in between categories and acknowledges the agency of 'other' things in one of Europe's biggest urban environments, in and around an architecture expressing the strive for total appropriation and control, on the doorstep of Russia's most famous park in which culture (the constructed) and nature (the given) come together. In a time full of tensions caused by the shortcomings of modernity, Dell'Uomo asks what it means to be human.
Public Program - Express Academy - June 14-21 2018
Gorky Park Museum invites artists of Moscow to participate in Boezem's Express Academy, a temporary art academy without walls, directors, and tuition fees. The academy will be working from June 14-17 in Moscow under the guidance of the Russian artists/professors Kirill Savchenkov, Anastasia Ryabova, Sara Culmann, and Aleksei Taruts. Dutch art historian Julia Mullié will be coordinating this program.
Express Academy is a variation on Boezem's Porsche Academy from 1976. Boezem believed that helping students in need of guidance was more important than a continuously functioning education system. The academy consisted of seven contemporary artists that had to ride a Porsche sports cars – like the Dutch State police at that time – to be able to instantly respond to students' requests. With this work Boezem questioned academic art education, and explored alternative and informal models of teaching and pedagogy. The academy remained unrealized for a long time. It was first realized in Middelburg in 2015 during the manifestation Boezem & Co.
On June 21 (before the opening of the exhibition) Gorky Park Museum will host a meeting for all participants and a public discussion with Dutch and Russian speakers to exchange ideas about the future of art education.
what, when, where
Dell'Uomo
Marinus Boezem
June 21 – August 5, 2018
Gorky Park Museum, Krymsky Val 9, Moscow, Russia
Image
Marinus Boezem - Artist impression for the new work at Gorky Park Museum, 2018.
Publication date: 7 Jun '18