Review of the exhibition From ZERO to 2018 in Het Parool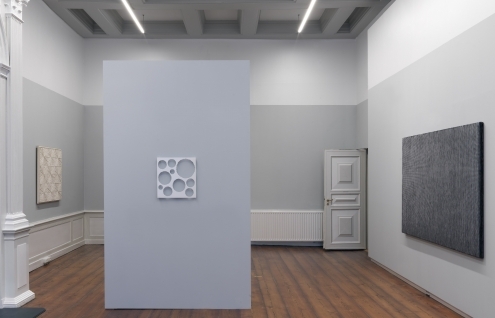 Review of the exhibition From ZERO to 2018 in Het Parool
translated:
Schoonhoven is still fresh

Review of the exhibition From Zero to 2018 at Upstream Gallery in Het Parool, May 4 2018, by Edo Dijksterhuis.

Zero, the artist group established in 1958, has been abundantly in the spotlight in the past few years. It is striking that an international top gallery such as David Zwirner (New York) now sells work by Schoonhoven. But not only the market is interested. A young generation of artists has been looking attentively at the minimalists, who wanted to reduce art to a zero point to start fresh again.
Then and now meet at Upstream Gallery. From Zero to 2018 is an exemplary exhibition, one that you would like to see more often in galleries, or even museums. It is a series of duets between three leaders of Dutch Zero and four of their contemporary progenies. The whole functions as a dynamic lesson in art history: how the past shapes the present, but also how the present sharpens our view of history.
Immediately upon entry on the left hangs Near Next 18 01 01 by Rafaël Rozendaal (1980). While passing by, the relief executed in linen changes from white, through shades of grey, to black. Similar to the shadow play in the papier-maché boxes of Jan Schoonhoven (1914-1994). While Schoonhoven's work measures only 18 by 18 centimeters, against Rozendaal's 144 by 200 centimeters does not matter. When having a substantive conversation, size, just like time, matters little.
Many shades of brown
The same kind of image rhyme takes place between Ad Dekkers and Constant Dullaart. Dekkers, the strictest of all the Zero artists, folded an aluminium square diagonally to a slight bend. Light and colour change depending on the perspective. The result is magical: a kaleidoscope from ice white to chocolate brown.
That same brown is seen in Dullaart's DullBrown. Here it is not an expression of the infinite possibilities that arise from as little as possible. Dullaart's brown is derived from millions of photos, from which he distilled the most common color.
For DullBrown, an advanced computer program was used. Where Zero broke with the past by using new materials such as nails or cotton wool, their followers do so by working in the immaterial environment of the internet.
The effect is the same. Jan Robert Leegte's Ornament is a sequence of frames, which gives an illusion of three-dimensionality. Sculpture has been reduced to a combination of volumes, light and movement. A fresh restart.
Publication date: 4 May '18