Solo exhibition Alicia Framis: Invisible Languages at Galería Juana de Aizpuru, Madrid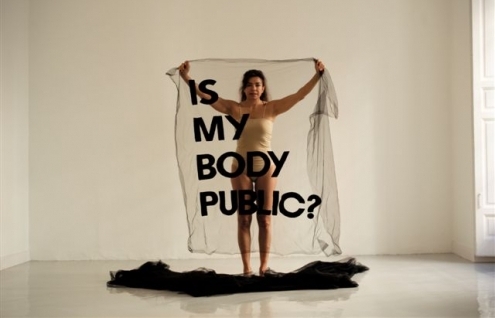 Solo exhibition Alicia Framis: Invisible Languages at Galería Juana de Aizpuru, Madrid
On April 21st at 12:30h the solo exhibition Invisible Languages by Alicia Framis opens at Galería Juana de Aizpuru in Madrid.
The exhibition consists of the new work Is My Body Public?, a fashion collection and performance and Room of Changes, in which technology is used to bring people together. In both multidisciplinary works Framis invites her audience to participate.
Is My Body Public? discusses women's rights in today's society and questions to what extent our bodies belong to the public or private realm. The work can be seen as a call for action, demonstration and reflection. With the interactive Room of Changes Framis thinks of innovative ways to use technology to unite people and create understanding amongst people.
The exhibition runs until May 30. Read more about the exhibition here.
Publication date: 20 Apr '18