Rafaël Rozendaal in 'Colour & Abstraction' at Textielmuseum Tilburg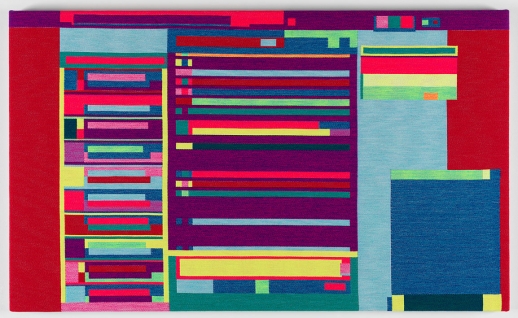 Rafaël Rozendaal in 'Colour & Abstraction' at Textielmuseum Tilburg
In Colour & Abstraction | Generations in Dialogue, the TextielMuseum (Tilburg) presents a broad spectrum of abstract textile works from the 1960s to the present. Spanning more than half a century, the works bring two generations of artists and designers into dialogue with each other. The exhibition features pieces by both the older generation, which explores colour and abstraction through the medium of textile, and the younger generation, which is interested in colour and abstraction as a subject. Films, sketches and samples illustrating the creative process are also included. On display for the first time are works by Rafaël Rozendaal and Formafantasma, which were commissioned by the TextielMuseum.
Generations in dialogue
The Dutch-Brazilian artist Rafaël Rozendaal (*1980), who lives in New York, has made a name for himself as an internet artist specialising in colour and light. In 'Abstract Browsing' (2017), he transformed the web into a hallucinatory collage of squares and stripes in bright red, pink, light blue, turquoise and lemon yellow. To generate the vivid colours and dimensions he wanted, he worked with technicians in the TextielLab to produce a five-metre-wide woven tapestry. His approach makes him the natural heir to Peter Struycken (*1939), the Dutch master of colour experimentation.
Struycken's fabrics exude dynamism and musicality. As early as 1969, he used the computer to generate his art. In the TextielLab, he was one of the first artists to explore systemically the colour possibilities of computer-aided weaving.
Colours evoke moods, without us being aware of them at the moment of observation. Even blind people can be affected by colour, their heart rate increasing when they enter a red room. Visual artists use colours for formal and personal reasons, to express an emotion or spiritual experience or to communicate with the viewer. Struycken, Ria van Eyk and Lam de Wolf, all born between 1939 and 1955, belong to the older generation of artists who explore colour and abstraction through the medium of textile. The younger generation, which is interested in colour and abstraction as a subject, is represented by artists such as Reinoud van Vught and Rafaël Rozendaal as well as designers such as Bertjan Pot and the Eindhoven duo Raw Color. In contrast to Struycken and Rozendaal, Van Vught (*1960) uses a muted palette and more traditional techniques. His poetic tapestries in subtle, natural tones have their roots in a series of large-scale drawings in which he experiments with paint and water.
Three-dimensionality in textiles
Textiles were for a long time synonymous with the two-dimensionality of tapestries. The emancipation of textiles as a medium in the visual arts from the 1960s opened up new creative possibilities. Three-dimensional textile works and installations were created – woven sculptures, fabrics dipped in latex and experiments with synthetic yarns, metal wire, sisal and hemp – resulting in an unusual, visual and physical experience. In the Netherlands, Désirée Scholten-van de Rivière and Loes van der Horst, Harry Boom, Lam de Wolf and Marjan Bijlenga were the first to explore the structural possibilities of textiles.
Today's textile artists are continuing what they started. Besides traditional techniques, they are utilising the developments in computer technology to produce complex textile structures. 'High Twist Wool / Silver Ellipse' (2016), a weaving by the Berlin-based artist Ursula Wagner, is a good example of this. Her elegant drapery is composed of multiple layers and takes on a three-dimensional form through a clever interplay of yarns and bindings. The Italian design duo Formafantasma meticulously studied the components of light – reflection, shadow, colour and space – and the use of optics, mirrors and glass to shape it. Behind the artistry of a series of minimal light objects lies a high-tech, function.
The exhibition runs from 17 March 2018 till 3 March 2019. Visit the TextielMuseum website for more information.
Image: Rafaël Rozendaal, Abstract Browsing 16 10 07 (Facebook), 2016.
Publication date: 10 Mar '18