Jen Liu in 'Meeting the Universe Halfway'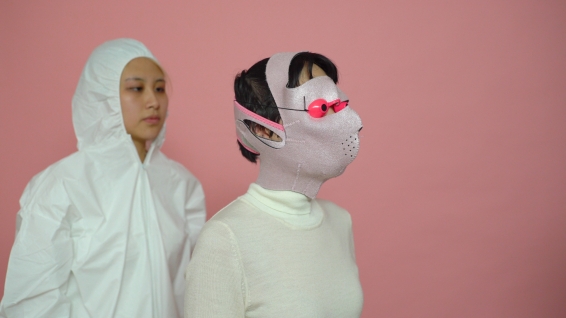 Jen Liu in 'Meeting the Universe Halfway'
Tomorrow the group exhibition Meeting the Universe Halfway opens at Kunst Im Tunnel, Düsseldorf. There will be a couple of works by Jen Liu on show, one of them being her new video work Pink Slime Ceasar Shift.
The exhibition Meeting the Universe Halfway is based on an essay by Karen Barad (*1956) in which the theoretical physicist and feminist theorist covers many different fields of science, sociology, and the humanities and offers a report on the world as a whole. Barad's conceptual framework is agent realism, which deals with the inseparability of being and knowing. She questions the distinction in scientific disciplines between the theory of knowledge (epistemology) and the study of the nature of being (ontology). On a scientific basis, Barad develops a new language for the idea of an exchange between objects with regard to aspects of posthumanism. It is assumed that it is not the human being that is the measure of all things, but that communication takes place on equal footing.
Following the idea that objects lead a life of their own, they can be called agents traveling through different levels of time. While from the humanist perspective human beings determine the beginning and the end, a completely different narrative emerges from the perspective of objects. They last longer than a human life and are redefined by each present moment. Every society appropriates them in its own way. From the human perspective, a merging is possible, while from the perspective of things only a temporary occupation can occur. In the long term, things cannot be controlled forever, because they themselves are subject to a natural process of change. They are matter and "matter is not a being determined once and for all; rather, it is substance in its interactive becoming—not a thing, but an activity, solidified activity."1 But human beings are capable of making lasting changes to "solidified activity." They can manipulate the appearance in such a way that objects are deprived of their identity and have to find their way in new realities. For instance, the sociologist Siegfried Kracauer believed that bridges to the past were broken off when the ornaments were removed from buildings on Kurfürstendamm in Berlin in 1932: "Now the robbed facades stand forever in time and symbolize the faceless change that takes place behind them."
The study of being is no longer just the subject of scientific research, but has found its way into the visual arts due to its current relevance. Along with the Kunstakademie Düsseldorf professor Yesim Akdeniz (*1978), five other artists from Germany, the Netherlands, Switzerland, Turkey, and the United States deal with this topic.
With YeÅŸim Akdeniz, François Dey, Jen Liu, Kubilay Mert Ural, Ceel Mogami de Haas, Christoph Westermeier, and Müge Yilmaz.
Publication date: 2 Mar '18