Leon & Cocina awarded the Caligari Film Prize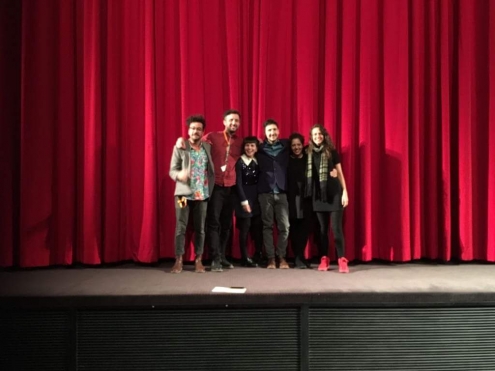 Leon & Cocina awarded the Caligari Film Prize
On Friday, February 23rd, the Chilean artist duo Cristóbal León & Joaquín Cociña was awarded the Caligari Film Prize for their stop-motion feature film La Casa Lobo ('The Wolf House'), after celebrating its World Premiere at the Forum section of the 68th Berlinale.
La Casa Lobo is included in the Forum section of the festival, that comprises avant garde, experimental works, essays, long-term observations, political reportage and yet-to-be-discovered cinematic landscapes: the International Forum of New Cinema, Forum in short, is the most daring section of the Berlinale.
A five-person jury awards the Caligari Film Prize to a film in the Forum. The prize is sponsored by the "German Federal Association of Communal Film Work" and the European Filmphilharmonic Institute. The winning film is honoured with 4,000 Euros, half of which is given to the director, the other half is meant to fund distribution. Members of the Jury 2018 included Peter Link, Vanessa Elges and Margarete Wach.
Image: La Casa Lobo, World Premiere at Berlinale 2018.
From left to right Joaquín Cociña, Carlos Vasquez, Natalia Geisse, Cristóbal León, Catalina Vergara and Alejandra Moffat.
Publication date: 2 Mar '18