Jen Liu's new video premieres at the Berlinale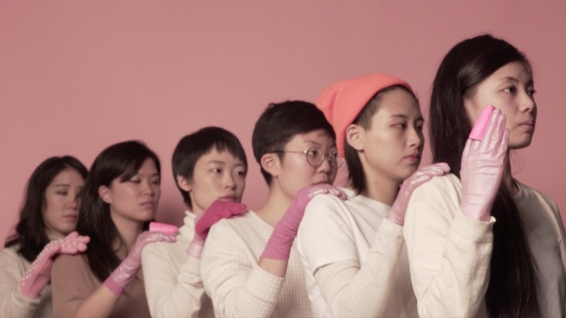 Jen Liu's new video premieres at the Berlinale
Tonight the new video work Pink Slime Ceasar Shift by Jen Liu will premiere at the Berlinale.
Pink Slime Ceasar Shift presents four proposals to alter the DNA of mass-produced in-vitro hamburgers to carry messages of labor insurrection on behalf of Special Economic Zone (SEZ) factory workers in China.
In the last decade, labor protests have increased in China, but they remain brief and localized due to the government's clampdown on social media and the subsequent inability to communicate across distances. Meanwhile, China's resource capacity has been maxed out, and shortages of beef – resulting in counterfeit beef scandals and imbalanced international trade deals – have become common.
If the solution to meat shortages is the production of stem cell originated synthetic meat, its workflow may also be used to create channels of communication for political organization – through altering the meat's DNA as data messenger. Four alteration methods correspond with the four sections of the video, while also speaking to various aspects of life for SEZ workers today.
With a combination of live action and 3D animation, the video integrates multiple worker education documents, cut with scientific equipment sales pitches, documentary recordings, and poems on intimate estrangement.
Jen Liu, born in 1976 in Smithtown, USA, is a New York-based visual artist working in video, performance, and painting, on topics of national identity, economy, and the re-motivating of archival artifacts. The question of gender's intersection with cultural constructions and racial anxieties are revealed in economic and industrial language, as well as props and costumes that take tropes to their humorous extreme. She received a BA in Creative Writing at Oberlin College and a MFA in Fine Arts and Integrated Media at California Institute of the Arts, Valencia, California. Her work has been shown internationally in solo and group exhibitions. She has also received multiple grants and residencies.
Publication date: 14 Feb '18