Bye Bye De Stijl at Centraal Museum with Marc Bijl and Rob Voerman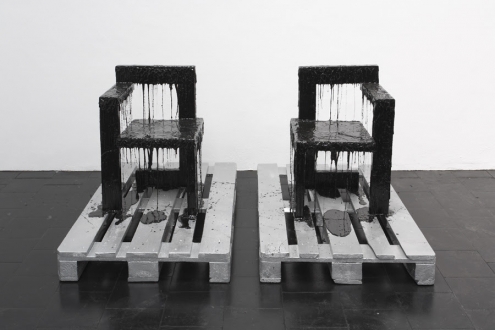 Bye Bye De Stijl at Centraal Museum with Marc Bijl and Rob Voerman
The year 2017 marked 100 years of De Stijl. This renowned modern art movement has been presented and celebrated in a series of exhibitions across the country. Centraal Museum now presents a final exhibition to round off this nation-wide manifestation with Bye Bye De Stijl. This exhibition is devoted to works by 11 contemporary artists including Marc Bijl and Rob Voerman, from the 1990s until today, for whom the iconic works by Rietveld and Mondriaan are something to mock or to emulate, to interpret or to elaborate on.
The exhibition runs from 16 December 2017 until 4 March 2018.
Image: Marc Bijl, Style Wars (2 Steltman Chairs), 2009
europallets, silver paint, silver spraypaint, epoxy, tar spray paint, 120 x 170 x 84 cm.
Publication date: 15 Dec '17