Harm van den Dorpel in group exhibition at Fotomuseum Winterthur, Switzerland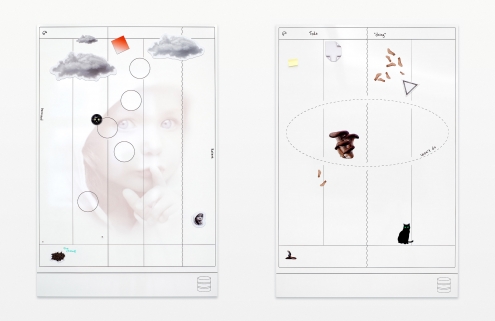 Harm van den Dorpel in group exhibition at Fotomuseum Winterthur, Switzerland
On December 2nd, 'SITUATIONS/ Post Fail' opens at Fotomuseum Winterthur. The exhibition, that includes work by Harm van den Dorpel, examines the moment just after the narratives that consider technological development as an unquestionable phenomenon have failed. The cluster offers a clear and cruel representation of a world in which both utopian and dystopian narratives disappoint and the idea of 'future' itself has failed, leaving the field clear for a much more complex and contradictory understanding of our present condition.
One of the main focuses in Harm van den Dorpel's artist practice is the deconstruction of visual language systems and the processes around image creation. Drawing on his background as a software developer, the artist created a series of works that speculate on the method of visualisation of the workflow in corporate environments. The rhetoric of organisation and efficiency is visually represented by the widespread use of charts, post-its, whiteboards and to do lists. For Scrum Kanban, van den Dorpel used large whiteboards, covered with custom-made magnets, marker drawings and digital prints. The elements of these compositions, even if presented in a fixed display, can potentially be rearranged every time they are exhibited. Playing with a given set of rules and visual elements, van den Dorpel investigates the possibility to disrupt a language and reveal the rhetoric and stereotypes that it usually conveys.
The exhibition runs until 4 February 2018.
Image: Harm van den Dorpel, Trauma (Scrum) and Exclusion (Scrum), 2015. UV print on whiteboard, magnets. Each 150 × 100 × 2cm.
Publication date: 8 Dec '17