Amsterdam Art Weekend 2017 coming up!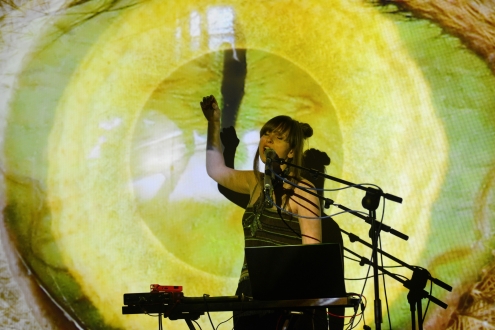 Amsterdam Art Weekend 2017 coming up!
Amsterdam Art Weekend is the only contemporary art weekend in the city and offers visitors a four day jam-packed program with more than 100 events at over 50 different locations. During this weekend, Amsterdam will be entirely dedicated to contemporary art, giving you the opportunity to explore and discover the latest developments within the visual arts!
Performance at Upstream Gallery by Kayleigh Beard
On Saturday November 25th, 16.00 - 17.00 hours, Upstream presents Music, Art, Technology: a performance by singer and artist Kayleigh Beard. Within her performance, she processes the abundance of information and her personal experience of its effects in a performance with vocals and electronic music. With synthesizer sounds, deep bass, beats, reverberating vocals and nature sounds, she creates an ambient, dreamy and spiritual atmosphere. By looping and distorting her voice, she gives expression to overflows, ambiguity and increasing indistinctions.
Kayleigh Beard is inspired by artists such as London Grammar, Agnes Obel, Susanne Sundfør and often associated with Björk, Enya and Aurora.
Rafaël Rozendaal at The EYE Filmmuseum
The EYE Filmmuseum presents the Dutch-Brazilian artist Rafaël Rozendaal during the 'An Evening at EYE' event that takes place Friday 24 November, 21.00-24.00 hours.
"An Evening at Eye" will be a festive evening in EYE's public arena, with a starring role for a visually overwhelming multi-channel video installation by Dutch-Brazilian artist Rafaël Rozendaal (1980). The artwork will be accompanied by live DJs and interactive installations, under the auspices of EYE's young art community, EXPOSED.
And on Sunday 26 November, 17.30 - 19.00 hours EYE Filmmuseum hosts an artist talk with Rafaël Rozendaal.
Jeroen Jongeleen at IDFA / EYE Filmmuseum
A length of string, good running shoes and stamina are enough for Jeroen Jongeleen to make his mark on public space. His video work Running 1000 Steps Along a 5 Meter String (2015) will be featured at 'Amsterdam Art Weekend at IDFA: Human Nurture'.
Saturday 25 November, 14:00-15:41 hours, EYE Filmmuseum Cinema 2.
At the main exhibition spaces of Upstream Gallery:
Zeitgeist by Marc Bijl
Fake news is making more and more headlines. After dominating discussions following the US elections, fake news is now fast becoming a global problem. In the wake of these developments, Marc Bijl presents Zeitgeist, a solo exhibition that addresses our current cultural climate of information overload, in which too many sources are undermining our view on truth and facts.
At the private viewing space of Upstream Gallery:
Recent works by Constant Dullaart and Rafaël Rozendaal
In conjunction with the exhibition by Marc Bijl, new and recent works by Constant Dullaart are presented in the gallery's private viewing space. Within his practice, Dullaart reflects on the broad cultural and social effects of communication and image processing technologies while critically engaging the power structures of mega corporations that dramatically influence our worldview through the internet. Recent works from his series PVA Compositions and High Retention, Slow Delivery Bots will be on show.
Rafaël Rozendaal is presenting recent works from his serie Abstract Browsing tapestries and from his series Shadow Objects at Upstream's private viewing space. This small presentation is coinciding with his dazzling multi-channel video installation at the public arena of the EYE Filmmuseum during the Amsterdam Art Weekend
Opening hours Upstream Gallery during the Amsterdam Art Weekend
Friday 24 November: 10.00 - 21.00 hrs
- Professional Preview: 10.00 - 13.00 hrs
- Gallery Night: 17.00 - 21.00 hrs
Saturday 25 November: 12.00 - 20.00 hrs
Sunday 26 November: 12.00 - 18.00 hrs

More info: Amsterdam Art Weekend

Images from top to bottom;
- Photo: Kayleigh Beard
- Rafaël Rozendaal, Falling Falling.com 2011
- Installation view of Zeitgeist by Marc Bijl at Upstream Gallery Amsterdam. Photo: Gert Jan van Rooij.
Publication date: 22 Nov '17