Performance by Kayleigh Beard during Amsterdam Art Weekend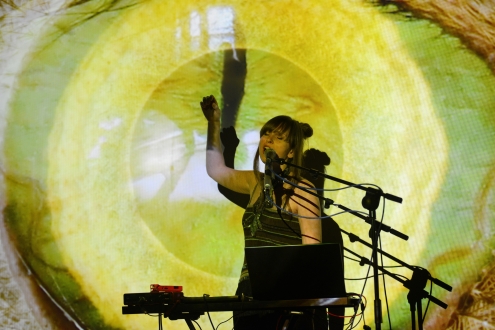 Performance by Kayleigh Beard during Amsterdam Art Weekend
During Amsterdam Art Weekend (23rd - 26th of November) Upstream Gallery will show Zeitgeist, a solo exhibition by Marc Bijl as well as an electronic music and voice performance by sound artist Kayleigh Beard. The performance will take place on November 25th from 16-17h. Both the performance and exhibition reflect on the contemporary media landscape and its political diffusion.
The music of Kayleigh Beard is a unique combination of dreamy, atmospheric folk and electronic pop music. She performs alone on the stage, like a "one-man-band" she sings and plays the synthesizer, MIDI instruments and self-made instruments.
During her performance on the 25th of November in Upstream Gallery during Amsterdam Art Weekend, her music will be about the contemporary abundance of information in the media, and about her personal experience with its effects. With synthesizer sounds, deep bass, beats, reverberating vocals and nature sounds, she creates an ambient, dreamy and spiritual atmosphere. By looping and distorting her voice, she gives expression to overflows, ambiguity and increasing indistinctions.
Kayleigh Beard is inspired by artists such as London Grammar, Agnes Obel, Susanne Sundfør and often associated with Björk, Enya and Aurora.
Publication date: 15 Nov '17