Frieze Panel: 'Asocial Media' with Constant Dullaart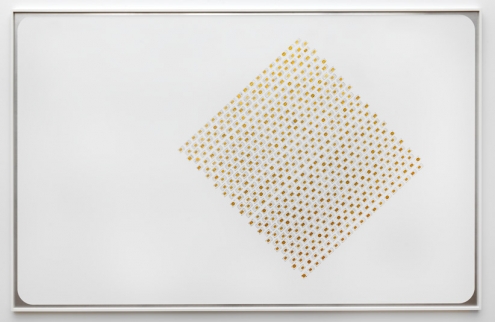 Frieze Panel: 'Asocial Media' with Constant Dullaart
From 5th October until 8th October, Frieze takes place in London. Besides the gallery programme at the fair, the annual programme also includes Frieze Projects and the Frieze Artist Award, presenting new, site-specific works by contemporary artists; Frieze Film, new film commissions premiered at the fair; Frieze Music, the fair's off-site music programme; and Frieze Talks, a dynamic series of panel discussions, conversations and keynote lectures.
On Sunday 8th October at 12:30pm, Constant Dullaart takes part in the Panel: Asocial Media. Author of the recent study Kill All Normies: From 4Chan to Donald Trump and the Alt-Right, Angela Nagel (writer, Ireland) talks to artists Ed Fornieles (artist, Canada) and Constant Dulaart about how to engage with fake news, Facebook and troll culture.
Image: Constant Dullaart, PVA Composition (Diamond), 2017. Forex, aluminium, sim cards, 117 x 182 cm. Photo: Gert Jan van Rooij.
Publication date: 7 Oct '17