Friends with Books, Art Book Fair Berlin 2017 with Marc Bijl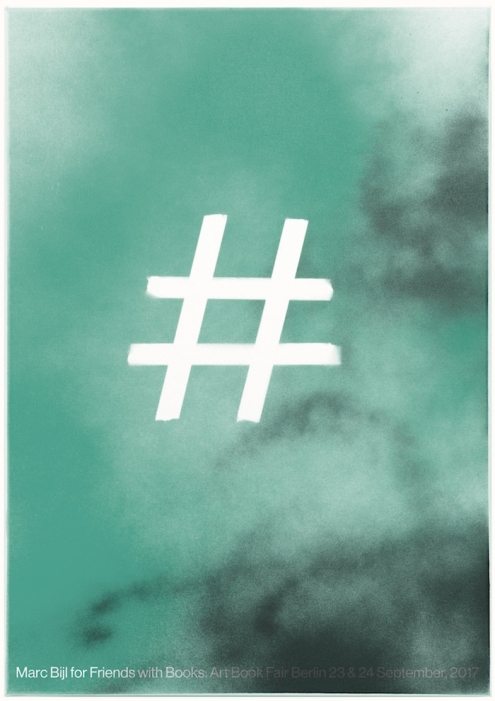 Friends with Books, Art Book Fair Berlin 2017 with Marc Bijl
Friends with Books: Art Book Fair Berlin takes place 22–24 September, 2017, as Europe's premier festival for contemporary artists' books and periodicals by artists and art publishers. Featuring 160+ international participants and a series of public programmes: discussions, readings, presentations, performances, and art works that explore the perimeters of today's art publishing.
For the occasion of the 2017 fair, Friends with Books has commissioned Marc Bijl, Smokescreen, 2017, please see edition details below.
On an annual basis, Friends with Books commissions Berlin-based artists to create fundraising editions to help benefit Friends with Books and ensure that the entry to the fair remains free to the public. The Friends with Books Poster Editions are commissioned as an ongoing series; 200 from each edition are available for € 2,- each. 25 of each poster edition are signed and numbered by the artist, available at a special price of € 50,-.
Poster Editions include Marc Bijl, Monica Bonvicini, Annette Kelm, Michaela Melián, John Miller, Jonathan Monk, Roman Schramm, Heidi Specker, and Erik Steinbrecher.
Friends with Books is a non-profit organisation founded in 2014 offering greater visibility to contemporary artists' books and art publications, including an annual art book fair, public programming, and partnerships with art organisations and institutions, facilitating the engagement of diverse audiences with the book works of artists and publishers worldwide.
Publication date: 15 Sep '17