SYDGL13: A guided tour through Zeeland by Maartje Korstanje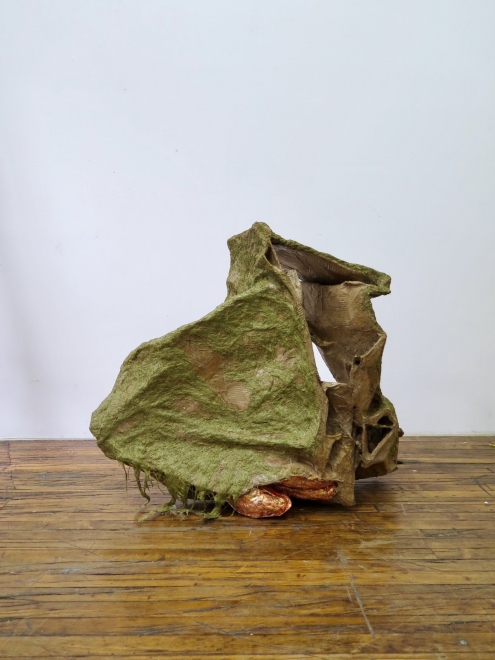 SYDGL13: A guided tour through Zeeland by Maartje Korstanje
So You Don't Get Lost in the Neighborhood #13: Maartje Korstanje
Zondag 24 september, 14:00
Meeting point: Breskens
For 'So You Don't Get Lost in the Neighborhood' Vleeshal invites artists from Zeeland to take on the role of a compass and guide their audience to interesting and inspiring places in Zeeland. Sunday September 24, artist Maartje Korstanje will guide her audience along the shore and dunes of Zeeuws-Vlaanderen, to her atelier and VierVaart – a place for recreation, small-scale farming and contemporary art.
Maartje Korstanje (1982, Goes) makes sculptures that often reflect on organic structures, beauty and decay in nature and the influence of human life on these subjects. During her study at the St. Joost Academy in Breda she discovered a book by 17th-century biologist Jon Jonston. The featured copper engravings by Matthaus Maria – illustrations of alien-like animals based on second-hand descriptions – were an important source of inspiration for her. Over the years Maartje Korstanje's works have become more abstract, although her sculptures can still be traced back to her childhood near the coast of Zeeland; a place where human life and nature have always been in contact. Moreover, she investigates traditional handcrafts and contemporary techniques. Currently, she often uses a high-tech embroidery machine and transfers embroideries to bronze.

After having worked and lived in Amsterdam and after having participated in artist-in-residence programs in Calcutta and New York, Maartje Korstanje returned to Zeeland in 2017. Together with her family she runs VierVaart, a self-supporting and small-scale camping with an emphasis on contemporary art. Maartje Korstanje's studio is located here as well.

In 2014, Maartje Korstanje was nominated for the Volkskrant Fine Art Award. Her work has been presented in group exhibitions in GEM (The Hague), Museum de Pont (Tilburg), Hudson Valley Center for Contemporary Art (New York) and ISCP (New York). Her work was featured in solo exhibitions in Upstream Gallery (Amsterdam), Zeeuws Museum (Middelburg), Museum Jan Cunen (Oss), and the Groninger Museum. In 2007 her work was also shown in Kabinetten van de Vleeshal.

Sunday September 24, we will gather at the ferry pier in Breskens at 14:00. From Breskens, we will cycle a route of approximately 12 km along the dunes towards VierVaart, where a local beer from Marckensteijn will be waiting for us. After the guided tour in Maartje Korstanje's studio, we will head back to Breskens (via a shorter route) by bike.

For this edition of 'So You Don't Get Lost in the Neighborhood #13' a bike is required. The excursion is free of charge and will take about three hours. Would you like to participate? Please sign in before Thursday September 21 via office@vleeshal.nl, stating 'SYDGL13'.
Publication date: 15 Sep '17