Solo exhibition Rafaël Rozendaal at Postmasters, New York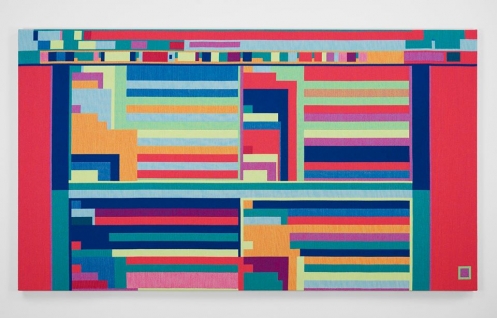 Solo exhibition Rafaël Rozendaal at Postmasters, New York
On September 8, Rafaël Rozendaal opens his third solo exhibition Anti Social at Postmasters Gallery in New York. He will present six new large-scale weavings derived from Abstract Browsing the Chrome extension designed by Rozendaal.
Surfing the web is fast and fluid. Weaving is antithetically slow and process-based—what the artist describes as "mechanical painting." Rozendaal selected weaving as the medium for these works because of the relationship between computer programming and the loom: The Jacquard Loom inspired Charles Babbage to incorporate perforated punch cards in his analytical engine. Thus, the loom could be considered the first computer.
The publication of Rozendaal's first major monograph, Everything, Always, Everywhere (Valiz, 2017) coincides with the exhibition. Accompanying the book is 'Here Hear,' a new app by the artist that translates vision into melody.
The exhibition opens on September 8 and runs until October 14.
More information on the exhibition here.
Image: Abstract Browsing 17 03 04 (Google Docs)
Publication date: 7 Sep '17