Fall Open Studios and 'The Animal Mirror' with Maartje Korstanje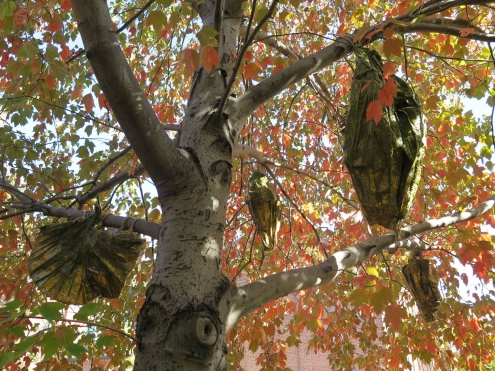 Fall Open Studios and 'The Animal Mirror' with Maartje Korstanje
The Fall Open Studios at International Studio & Curatorial Program (ISCP) in New York are coming up again!
On Saturday, November 5, at 12pm Maartje Korstanje, resident at ISCP, will be present at Olive Street Garden (corner of Olive and Powers Streets, Brooklyn) to discuss her work commissioned for The Animal Mirror: An organic site-specific sculpture related to the recent disappearance of a large number of North American honeybee colonies, it is meant as much to serve as a home for solitary bees as for the enjoyment of its human visitors.
The group exhibition The Animal Mirror presents artworks that take non-human animals as their subject matter, reflecting a range of cultural and societal issues of the twenty-first century. The participating artists reveal the ever-shifting relationships between humankind and other species, extending the idea of non-human animals as creatures of mediation. The works presented offer insights into animality by questioning human subjectivity and the boundaries between the human and non-human. The exhibition will be installed in ISCP's gallery and project space, and offsite at a neighborhood community garden. During the three months of the exhibition, a robust schedule of public programs is planned, including a performance by Simone Forti marking the 50th anniversary of her seminal work Sleep Walkers/Zoo Mantras.
This exhibition is curated by Kari Conte, Director of Programs and Exhibitions, and will be accompanied by a forthcoming publication. The exhibition runs from 2 November 2016 until 27 January 2017.
Visit the event website for more information about the Open Studios and the exhibition.


Image: New work by Maartje Korstanje, on view during the Open Studio's at ISCP.
Publication date: 2 Nov '16