Land Art Weekend with Marinus Boezem in Flevoland (NL)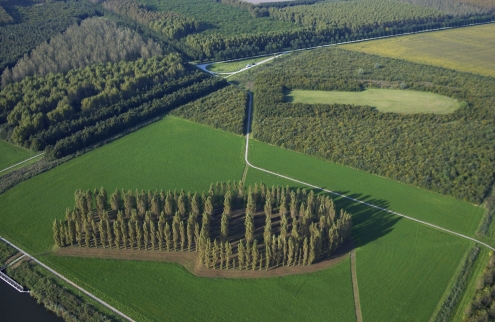 Land Art Weekend with Marinus Boezem in Flevoland (NL)
Since its establishment in the second half of the 20th century, the Dutch provice of Flevoland has been an inspiration for the Land Art movement. Starting from the 1970s, the provice has installed six land art works in the newly created landscape, including the Green Cathedral by Marinus Boezem.
Within the Green Cathedral, the plan of the Reims Cathedral is simulated full-scale by planting Italian poplars. The Dutch city of Almere decided to construct the plan in 1987 and planted 178 poplars that would eventually form the green Gothic cathedral. In 1996, the poplars were high enough to open the Green Cathedral to the public.
During the Land Art Weekend on Saturday 8 and Sunday 9 October, the collection of Land Art will be added with a seventh work by Paul de Kort, combined with guided tours through all seven works and special children's events, food and drinks. For more information (in Dutch) and the locations, visit the Maand van de Geschiedenis website.
Publication date: 7 Oct '16