10th edition Wolvecampprijs celebrated with group exhibition including Marc Bijl and Ronald Ophuis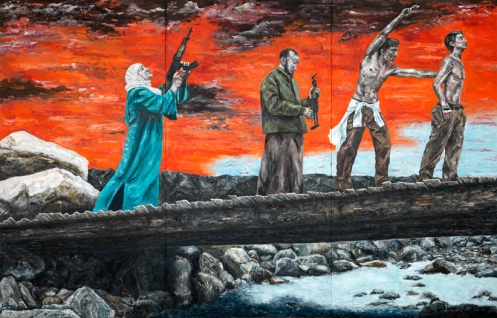 10th edition Wolvecampprijs celebrated with group exhibition including Marc Bijl and Ronald Ophuis
Stichting HeArtpool is celebrating its 20th anniversary and organizes the 10th Wolvecampprijs, taking this opportunity to pay tribute to contemporary Dutch painting. The award ceremony coincides with the opening of a group exhibition with work by former Wolvecampprijs winners and nominees and includes work by both Marc Bijl and Ronald Ophuis.
Five former chairmen of the Wolvecampprijs formed the jury: Anna Tilroe (chair), Chris Dercon, Rudy Fuchs, Wim van Krimpen, Hendrik Driessen and winner of the 2014 Wolvecampprijs Esther Tielemans.
Tribute to painting
For this years edition, the jury decided not to nominate three young painters as usual. The members were unanimous in the view that this anniversary edition was to be no 'race', but a celebration of the Wolvecampprijs and painting. For that reason, they chose three renowned Dutch artists with an international body of work, which together will exhibit their work in the exhibition hall of Hazemijer in Hengelo: Lily van der Stokker, Rob Birza and Erik van Lieshout.

For more information and opening hours of the exhibition, visit the Wolvecamp website. The exhibition runs from September 25th until October 2nd, 2016.

Images:
Ronald Ophuis, Arab Spring. On their way to revolution. Syria 2011., 2015. Oil on canvas, 340 x 175 (3x). Photo: Gert Jan van Rooij.
Marc Bijl, Ferguson, 2015. Powder coating on aluminium, 200 x 124 cm. Photo: Gert Jan van Rooij.
Publication date: 24 Sep '16