Rozendaals 'Bring Your Own Beamer' @ Stedelijk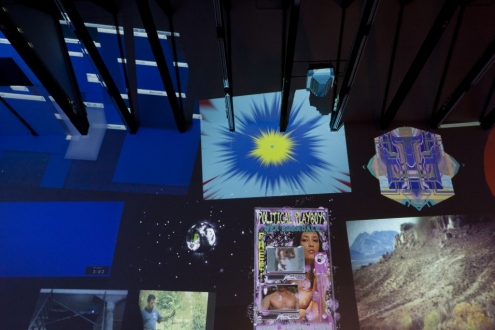 Rozendaals 'Bring Your Own Beamer' @ Stedelijk
For this event, many artists, designers and other creatives – and their beamers – were invited to project their work on the blank walls of the Teijin Auditorium. BYOB is an international concept initiated by internet artist Rafaël Rozendaal, which allows artists to fill a space with projections for one night. Everything is permitted, as long as it is projected: from video art, VJ sets and Kinect systems to slideshows and home videos. This 360⁰ exhibition will be on display from 8.15 pm. The evening will include a conversation in the Audi gallery with Rafaël Rozendaal.

PROGRAM
8 pm START BYOB, Teijin Auditorium
8.45 TALK | Rafaël Rozendaal en Olof van Winden
10.45 END BYOB
11 pm Museum closes
MORE ABOUT THE SPEAKERS
Rafaël Rozendaal is a visual artist who uses the internet as his canvas. His websites attract a large audience of over 60 million unique visits per year. His artistic practice consists of websites, installations, lenticulars, lectures and haiku.
Olof van Winden (Mukumu, Kenya - 1976) is director and founder of the TodaysArt festival in The Hague. Over the years, under his leadership, TodaysArt has expanded into an international network of festivals, projects and collaborations in Japan, South-Korea, Mexico, Russia, the Middle East, Canada, the United States and many European countries.
In between Van Winden was also the director of Montevideo/ Netherlands Media Arts Institute in Amsterdam. He curated renowned exhibitions and events, among which the Seoul Biennale (Media City Seoul, 2012), Detroit Electronic Music Festival (2002/2003) and large scale exhibitions in Moscow in collaboration with the National Centre of Contemporary Arts and the Moscow Biennale.
His visionary approach and inner urge for a in depth search of new ideas are his drive in forming a worldwide platform for facilitating artists in their creativity and for bringing it as a close and personal experience to the global audience of all backgrounds, cultures, interests and levels.
Known for his unconventional approach and considered an expert in media art, digital culture, creativity and innovation, Van Winden is regularly invited as a speaker during international conferences, as advisor for creative projects, or as jury member/advisor for committees.
PARTICIPATING ARTISTS
Alina Ozerova
Anastasia Afonina
Anika Schwarzlose
Bomi Kim
Damon Zucconi
Ewoudt Boonstra
Re-Collective: Eline Kersten & Renan Schulze
Father FutureBack
Hester van Tongerlo
Holls Collective
Hugo Rocci
Inge Meijer
Jan Robert Leegte
John Weilacher
Josje Hattink
Kamiel Rongen
Karim Adduchi
Kiki Nickel
Kistina Benjocki
Margaret Haines
Marie van Vollenhoven
Mylou Oord
Blackbird Theloesen
Nicole Martens
Omri Bigetz
Patricia Ribas
Peter Luining
Saskia Viscount
Shahib Sidow en Marie van Vollenhoven
The Rodina
Victorine van Alphen
Video Power
Wyne Veen
- See more at: http://stedelijk.nl/
Publication date: 25 Aug '16