Rob Voerman at SONSBEEK'16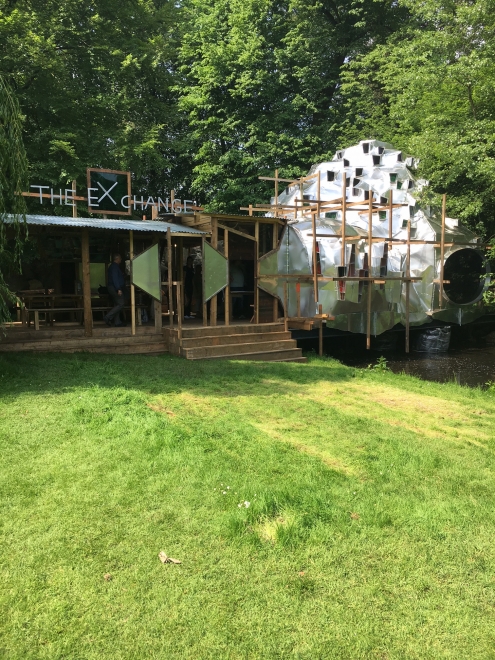 Rob Voerman at SONSBEEK'16
This year's Sonsbeek, with 45 artworks by artists from 22 countries in the world, is guest curated by the Jakarta-based artist collective Ruangrupa, which chose as this year's theme the concept of "transACTION."
For SONSBEEK'16 Rob Voerman has made a large installation, called The Exchange, covering the largest waterfall in the Netherlands, in which the artist introduces a new currency directly connecting ecology with a currency.
In The Exchange different rules apply. You pay using a new potential currency, based on ecological resources on earth. There's no safe with banknotes or gold. The part of the building covering the waterfall functions symbolically as a safe. No gold is kept here, but the 19th.century representation of nature that symbolically backs the value of the money.
The new currency Voerman introduces is directly related to the surface od the earth. Each individual note (called Square's) is related to a square meter somewhere on earth. The current value of that particular note is based on the condition of that square-meter. The value goes from 1 to 100. 100 Means totally clean and untouched. 1 Is simular to a chemical toilet. The data for which the value is estimated, derives from existing data-bases, which can be found online about polution, logging, etc. Each QR-code on the note can be scanned and tells you what the value is and where the square-meter is positioned. Over time the value could change depending on the developements in these areas.
The installation is partly made out of aluminium, coloured glass and dark plexiglas, while the other has a natural backdrop along the water. In this aluminum pavilion, you can hear the clatter of one of the Netherlands' largest waterfalls, as the scent of the soil comes towards you.
The structure embraces two very different worlds, symbolizing Voerman's mission: to connect economy and ecology. According to him, this is the only way to save the natural resources of the world, and the world itself.
The New York Times wrote a great review on SONSBEEK'16 with special attention for the installation of Rob Voerman; "..Down the hill and along the stream, the Dutch artist Rob Voerman has created another house-like installation over and around an existing waterfall. The artist modeled the design on the idea of a bank, with an open foyer and high ceilings, to explore the notion of economic and natural transactions. From the outside it looks more like a Frank Gehry or Zaha Hadid structure, with its glossy aluminum exterior and small, eye-like stained glass windows in the facade..."
The exhibition has started on the 4th. of June 2016 and will end on the 18th. of September 2016.
http://www.sonsbeek.org/eng/home
Publication date: 27 Jul '16