All You Can Art at Kunsthal Rotterdam shows Maartje Korstanje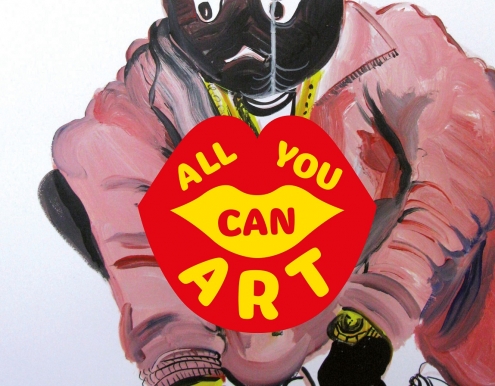 All You Can Art at Kunsthal Rotterdam shows Maartje Korstanje
Curaçao meets Rotterdam! Kunsthal Rotterdam celebrates the tenth anniversary of Instituto Buena Bista (IBB), a preliminary training institute and venue for contemporary art on Curaçao, with the summer exhibition 'All You Can Art - David Bade and Tirzo Martha'.
The exhibition presents work (in progress) by the founding fathers of IBB, David Bade and Tirzo Martha, as well as by other international artists from the IBB collection including Maartje Korstanje.
The sculptures, drawings and paintings of David Bade (1970, Willemstad, Curaçao) comment on society in a highly imaginative, raw style that is often spiked with a generous dose of humour. Tirzo Martha (1965, Willemstad, Curaçao) shows several of his politically and socially engaged installations and paintings that reflect the delicate balance and inequality of Curaçao society. Besides works by Bade, Martha and former artists in residence including Domenico Mangano, Marieke van Rooy, Maartje Korstanje and Honoré d'O, there is also work by IBB graduates and clients of the Capriles psychiatric clinic.
CONTEMPORARY AND MODERN ART FROM CURAÇAO
Works by contemporary and modern artists that are related to Curaçao have been selected for 'All you can Art' in collaboration with IBB. The themes covered range from the colonial past, religion and nature to the socio-political situation, such as Tony Monsanto's seven-metre canvas 'Dante and Fanon into Hell' (2011) and a sculpture by Yubi Kirindongo. There are several paintings by Chris and Lucila Engels, who laid the foundations of modern art on Curaçao. Artists like Charles Eyk and Dolf Henkes have drawn inspiration from Caribbean culture to make work that tells the story of the development of art on Curaçao.
The exhibition runs until 21 August 2016. Visit the Kunsthal Rotterdam website for more information and an overview of workshops and events related to the exhibition.
Publication date: 1 Jun '16