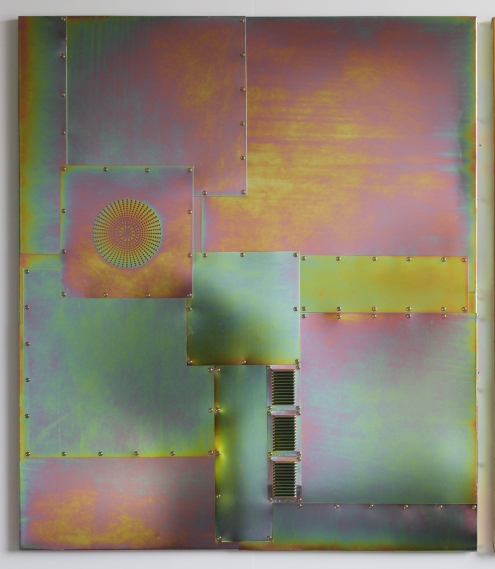 Upstream Gallery presents Frank Ammerlaan & Rafaël Rozendaal
at Art Dubai 2016

Upstream Gallery is pleased to present the work of artists Frank Ammerlaan and Rafaël Rozendaal at Art Dubai, booth A15. During the tenth edition of the fair, we will bring an exciting selection of new works by both artists, that each on their own show an interconnection with the evolution of digital visual culture and new technological production processes.
Frank Ammerlaan
Frank Ammerlaan's practice includes painting, sculpture and video. In his recent paintings Ammerlaan decolonizes light and colour to bring the natural world back to the picture frame. This is a search for a truth in visual representation and the way we perceive light and colour. Colour is never an autonomous phenomenon or an aesthetic end in itself. Transformation, movement and atmosphere are explored in a decentralised way. In the atmospheric "Untitled" paintings, Ammerlaan uses passivated zinc and steel to create immersive colour palettes formulated by the natural world. The temporal effect of chemical, biological and physical forces applied to his work affect the original materials and change their form to produce a feeling of atmosphere and endlessness, while beauty and sensual value take on significantly different properties.

Frank Ammerlaan (NL, 1979) lives and works in London. Painting remains central to his investigations, but in a curious way – simultaneously in the foreground and relegated to the fringes. His explorations into different media open on to each other like chapters in a book, and only occasionally does a painting need to be a painting. This kinship that exists between all his works produces self-reliant images that emerge at the borderlines between media, materials and processes.
Rafaël Rozendaal
Rafaël Rozendaal navigates, appropriates and reshapes the technological environment, conjuring up virtual realities to shift our perception of the diurnal flux of the internet, to feel the complex, disjunctive rhythm of the global information machine. His varied practice spans a range of media including video, text and web produced work, creating visual spectacles and animated maps of imaginary activity. For Rozendaal, the Lenticular paintings are a way of translating his digital work into the physical world. He started making these 'Lenticular Paintings' in 2013. The technique of these works are known mostly from postcards where the image move when you tilt the card. The quality of these paintings is significantly higher than these postcards, which produces a profound effect with multi-layer colours and a canvas that seems to move when you walk past it. In this way the physical object can refer to the digital platform: there is movement and a way of interaction between the canvas and the onlooker, also the number of compositions is endless.
Rafaël Rozendaal (1980) is a Dutch-Brazilian artist who currently lives in New York. His work is regularly exhibited, not only in Europe and the U.S. but also in Asia and South America. He has worked with institutions such as the Centre Pompidou, Kunstverein Frankfurt, TSCA Gallery Tokyo, Seoul Art Fair, Media Art Institute and the Stedelijk Museum Amsterdam. He is a regular speaker on digital art topics and his work is discussed in international publications such as Time Magazine, Wall Street Journal, Flash Art, and Interview. Rozendaal is also the founder of the exhibition concept Bring Your Own Beamer, an evening where artists bring their own projectors to display their digital work. Since 2010 there have been over 100 BYOB exhibitions, including one at the Venice Biennale. Rozendaal is a member of the abstract music group Cold Void.
Upstream Gallery's participation in Art Dubai is supported by the Mondriaan Fonds.
Images:
Frank Ammerlaan, untitled, 2016. Colour passivated zinc on metal, 140 x 120 cm.
Rafaël Rozendaal, Into Time 15 11 03, 2015. Lenticular print, 120 x 90 cm. Photo: Gert Jan van Rooij.
Publication date: 9 Mar '16