León & Cociña at EYE Museum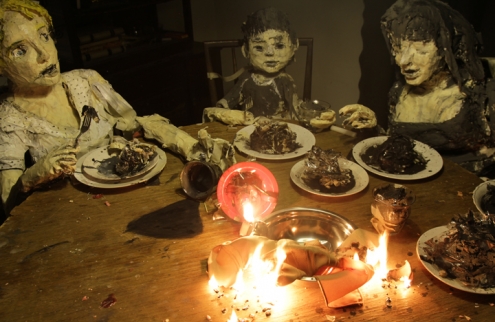 León & Cociña at EYE Museum
From 31 January to 22 May, 2016, EYE presents the exhibition Close-Up – A New Generation of Film and Video Artists in the Netherlands. This group exhibition features numerous recent film and video works and spatial installations by a new generation of filmmakers and artists in the Netherlands, who are breaking down the barriers between film, video and visual art.
The participating artists are: Melanie Bonajo, Felix Burger, Helen Dowling, Zachary Formwalt, Mariska de Groot, Hamza Halloubi, Cristóbal León & Joaquín Cociña, Amos Mulder, Florian & Michael Quistrebert, Janis Rafa, belit saÄŸ, Joris Strijbos & Matthijs Munnik, Lichun Tseng and David Verbeek.
Dutch film and video art has undergone significant development in recent years. A highly productive new generation of makers is breaking down the barriers between film, video and visual art. They create works for single screens, for multiple screens and for big spatial installations that incorporate moving images. The exhibition offers an overview of the broad spectrum of developments and the wide range of artistic approaches to the medium of film. Every two weeks, an academy will organize a presentation in a specially reserved space in the exhibition. Most of these presentations will feature the results of an extensive study, and may include material from the EYE collection. Students will present their work on a series of Tuesday evenings, and it will then remain on show for two weeks.
More info: eyefilm.nl
Publication date: 8 Jan '16