Exhibition 'Resident Evil' by Cristóbal León and Joaquín Cociña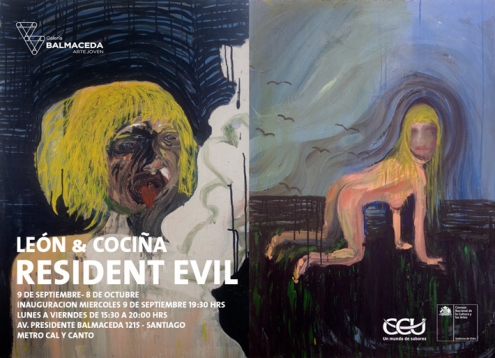 Exhibition 'Resident Evil' by Cristóbal León and Joaquín Cociña
Balmaceda Arte Joven presents the exhibition 'Resident Evil' by Cristóbal León and Joaquín Cociña.
The exhibition is based on an extract of the video work 'LA CASA LOBO', on which León and Cociña have been working recently. The artists use the gallery as a studio during the time of the exhibition, in which visitors will enter a world made up by paintings, sculpture-rests of the film and a TV that shows what is happing in the artists studio, which is located in the same building. To complete the exhibition, robotic versions of the artists will be present and continue to paint and sculpt.
The exhibition runs from September 9 until October 8.
For more information, visit the Balmaceda Arte Joven website.
Publication date: 19 Sep '15