Grand Opening new gallery space 3 October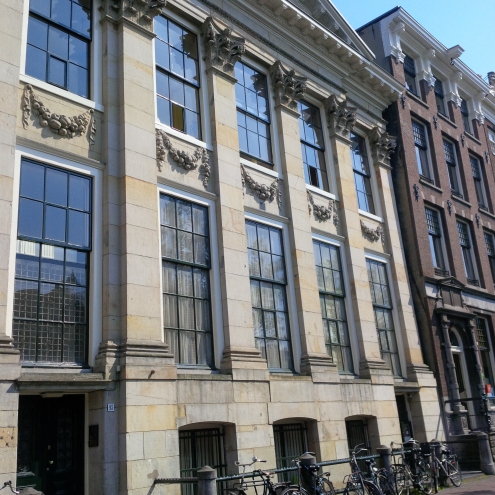 Grand Opening new gallery space 3 October
Upstream Gallery will re-open its doors during the Grand Opening on October 3rd, 20.00 - 22.00. We celebrate the reopening of the gallery at our wonderful new location with the group exhibition Transformer showing new works by the artists from the gallery.
About our new location
The 'Poppenhuis' (Poppen House) came in 1642 in the place of the private home 'De Gulden Steur', that the grandfather of Joan Poppen, Jan Poppen, had built in 1601. Jan Poppen was a prosperous merchant, and co-founder of the VOC ('United East India Company'). The father of Jan Poppen, Jacob Poppen, had been alderman and three times mayor of the city of Amsterdam. He was one of the wealthiest citizens of the city and left a tremendous estate at his death. Jan Poppen himself was shut out of important political positions after he had converted to Roman Catholicism. The family of his mother's side, the Wuytiers, was also Catholic.
During his time, Philips Vingboons (1607-1678) was a much sought-after architect in high Catholic circles and had built houses for, for instance, the Cromhout family on the Herengracht. The Poppen House is one of the most refined classical-school city-palaces in Amsterdam and is one of the key works of Vingboons. With its sleek, classical facade, it draws much attention among the many step-gables in the area. The house was not, as was usual, a combined merchant's house and warehouse, but served mainly living and representation.
About the opening exhibition Transformer
The title of the exhibition is taken from the eponymous album by Lou Reed, produced by David Bowie and Mick Ronson, in which the iconic 'Walk on the Wild Side' is included. With the relocation to the richly decorated Poppenhuis with its completely renovated monumental interior and historic period rooms, the gallery not only leaves Amsterdam's De Pijp area, but also the traditional white cube. The exhibition shows, alongside the transformation of the gallery, the new developments in the work of the represented artists.
Publication date: 1 Oct '15