MFAM (Pittsburgh, USA) shows large site-specific installation by Rob Voerman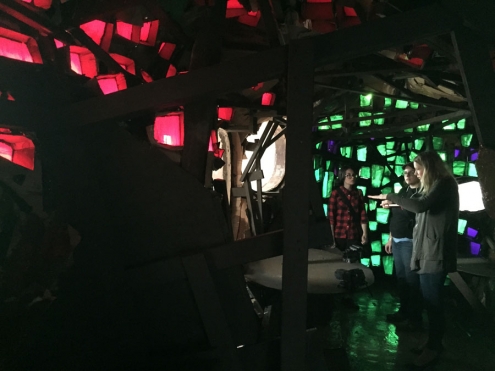 MFAM (Pittsburgh, USA) shows large site-specific installation by Rob Voerman
Pittsburgh's Mattress Factory Art Museum shows a large site-specific installation by Rob Voerman in the exhibition 'Factory Installed'.
This September, Rob Voerman is working for four weeks on a large site-specific installation at the MFAM in Pittsburgh.
The installation reflects on one of Pittsburgh's famous landmarks, the university building "Cathedral of the Learning" and its nationality rooms. The work consists of an altered fragment of the building with parasite-architecture. The installation becomes a small classroom inspired by those featured in the university building and slightly resembling a capsule. A classroom with undefined nationality is pointing and reflecting towards the future.
Three other artists, Bill Smith, Lisa Sigal and Marnie Weber, will work on other new installations as well, which will all open on the same day.
On 10 September, Rob Voerman, together with Mary Lou Arscott, will also join the Mattress Factory's Public Program Art+Conversation for an informal discussion series about their process and work. In this special sneak preview, you'll preview the work at Factory Installed artist Rob Voerman.
The exhibition will run from the 19th of September 2015 until May 29th 2016.
For more information, visit the MFAM website: http://www.mattress.org/
Photos by Rob Voerman
Publication date: 16 Sep '15