Rafaël Rozendaal selected artist for Times Square's electronic billboards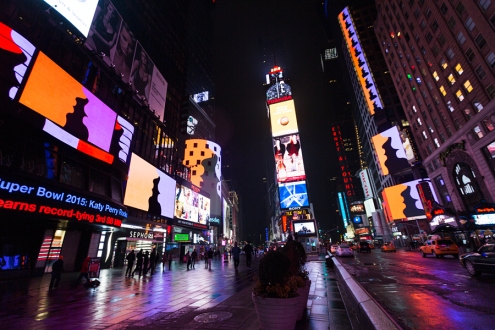 Rafaël Rozendaal selected artist for Times Square's electronic billboards
Upstream Gallery artist Rafaël Rozendaal (1980) is selected to show his website Much Better Than This on Times Square's electronic billboards from 11:57 pm to midnight each night in February. This project is part of Midnight Movement, a monthly presentation by The Times Square Advertising Coalition (TSAC) and Times Square Arts.
Check out the videoregistration on Youtube
Check out the news coverage in RTL Late Night
For Rozendaal, the Internet functions as studio, canvas and exhibition space all in one. Since 2001, he has been creating artworks in the form of websites. These works exist purely online: they have no physical form or location. Rozendaal's work www.muchbetterthanthis.com, that has been selected for the Times Square show, has been viewed by tens of millions of people around the world. The work is aquired by a private collector but will always remain publicly accessible on the web.
About Midnight Moment
Midnight Moment is the largest coordinated effort in history by the sign operators in Times Square to display synchronized, cutting-edge creative content on electronic billboards and newspaper kiosks throughout Times Square every night. The program premiered in May 2012 and is organized and supported by the Times Square Advertising Coalition in partnership with Times Square Arts, the public art program of the Times Square Alliance, with additional partners of participating sign holders and artists.

Each night, Times Square becomes a digital art gallery through dazzling visuals on select billboards and newsstands. Every show begins at 11:57 p.m. with a "countdown" that signals the start of the three minute nightly presentation. Past artists featured in the program include Sebastian Errazuriz, Charles Atlas and Antony, Noah Hutton, Ryoji Ikeda, Daniel Canogar, Alfredo Jaar; Isaac Julien; Robert Wilson; Tracey Emin; Seoungho Cho; Vicki DaSilva, Surabhi Saraf, and Elly Cho; Erika Janunger; Takeshi Murata; Bel Borba with Burt Sun and André Costantini; Zach Nader; Brian Gonzalez (aka Taxiplasm); Björk; JR; Ryan McGinley; Jack Goldstein; Nature Theater of Oklahoma; Ezra Wube; Laleh Khorramian; Brian Dailey; Leslie Thornton; and Yoko Ono. For more information on past projects, please visit http://www.timessquarenyc.org/times-square-arts/projects/midnight-moment/index.aspx.
The following digital screens are participating in the February Midnight Moment:

ABC Super Sign, American Eagle Times Square, Bank of America, Branded Cities 7 Times Square, Branded Cities 1 Times Square, Branded Cities NASDAQ Tower Times Square, Branded Cities Thomson Reuters, Outfront Media 1515 Broadway/ Viacom North & South, CEMUSA, City Outdoor, Clear Channel Spectacolor HD127/CNN, Clear Channel Spectacolor HD128, Superior Digital Displays Three Times Square #5
This program is supported as part of the Dutch Culture USA program by the Consulate General of the Netherlands in New York.
Photos by Ka-Man Tse for @TSqArts.
Publication date: 18 Feb '15