Pepo Salazar selected for the Venice Biennale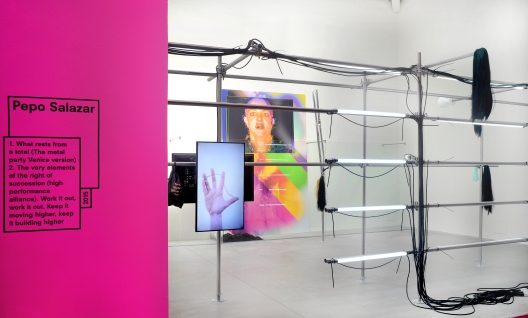 Pepo Salazar selected for the Venice Biennale
Upstream Gallery artist Pepo Salazar (Vitoria-Gasteiz, 1972) is selected to represent Spain at the 2015 Venice Biennale. Yesterday the Spanish Ministry of Foreign Affairs announced that curator Martí Manen's project was selected for the Spanish Pavilion.
Entitled "Los Sujetos", Manen's exhibition takes the figure of Salvador Dalí as starting point. Together with artists Francesco Ruiz and Cabello/Carceller, Pepo Salazar will explore the ghost of the iconic artist.
The artist will present a project based on dismantling the idea of novelty in the system of art.
Pepo Salazar is based in Paris. A constant feature in his work, consisting of photographs, videos, installations and objects, is the manipulation of words. The iconoclastic aesthetics of movements such as punk, rebellious attitudes or teenage vandalism merge into constant allusions to the history of art, to utopian avant-garde movements, such as Dada, Situationist proposals or contemporary philosophy.
Since 2005, Salazar has had several solo exhibitions at Upstream Gallery. His work is also shown at ARTIUM (Spain), Palais de Tokyo (Paris), Kunstlerhaus Bethanien (Berlin), Art in General (New York), TRAFO Museum (Singapore), Fundación Tàpies (Barcelona) and the Guggenheim (Bilbao).
The 56th Venice Biennale, entitled "All the World's Futures", is curated by Okwui Enwezor and will run from May 9th until November 22nd, 2015.
Publication date: 21 May '15