Upstream presents Jan Robert Leegte at Verse, London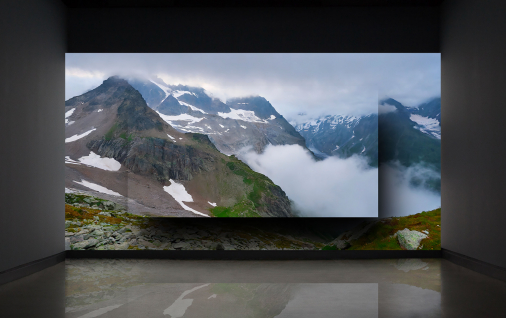 Upstream presents Jan Robert Leegte at Verse, London
Upstream Gallery is proud to present work by Jan Robert Leegte at HERE, a weekend celebration of digital art at digital art platform Verse in London on Saturday 25 November.
mountains and drop shadows
Upstream Gallery presents Mountains and Drop Shadows (2023) by Jan Robert Leegte.
The work explores the stark contrast between the natural grandeur of mountains as sculptural expressions and the ethereal, digital materiality of drop shadows.
Mountains and Drop Shadows will be released as a series of 80 NFTs on Ethereum. Each NFT will be a unique responsive website containing a generative JavaScript/CSS animated drop shadow over a JPEG background image.
More info about the work here.
here
Verse is delighted to announce HERE, a weekend-long event dedicated to contemporary art in the heart of London.
Visitors to the event can experience the works of leading artists like Paul Pfeiffer, John Gerrard, Haroon Mirza, Lorna Mills, Roope Rainisto, Jan Robert Leegte and A.A. Murakami. These artworks will be presented in collaboration with respected galleries such as Lisson Gallery, Galerie Nagel Draxler, Upstream, Artwrld, Fellowship and many others.
Verse, as a digital art platform, aims to foster a sense of community among digital art collectors and enthusiasts, challenging traditional perceptions and embracing the future of art.
programme
16.00 - 17.00 - Talk: Jan Robert Leegte and Nieck de Bruijn with Pita Areola (Digital Art Curator, V&A)
17.00 - 18.00 - Talk: Haroon Mirza with Kostas Stasinopoulos (Curator, Serpentine)
18.00 - 22.00 - DJ set: AHMD (Artists Eddie Peake, Prem Sahib and George Henry Longly)
location
9 Cork Street, London
16.00 - 22.00 GMT

Register for the opening event here.
Publication date: 16 Nov '23