AkzoNobel Art Foundation's new exhibition EARTH includes Performing a Landscape by Jan Robert Leegte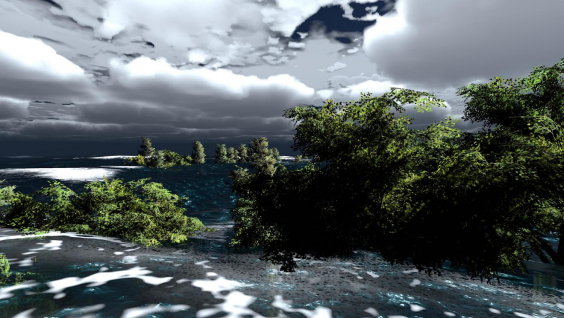 AkzoNobel Art Foundation's new exhibition EARTH includes Performing a Landscape by Jan Robert Leegte
AkzoNobel Art Foundation opens it's doors again from the 18th of September with a brand new exhibition called EARTH: A collective landscape.
EARTH encapsulates a landscape that ranges from the idyllic to the dystopic. The exhibition unfolds as a rich spectrum of images and stories, from different backgrounds, times and contextualizations, giving rise to new connections. The represented artists all deal with the landscape in their own way.
For this exhibition, two works by Jan Robert Leegte, Performing a Landscape (Fiery Sky) and " " (Storm) from 2020 will be on display, which couldn't have been more fitting. In this work, Leegte brings an ominous simulated landscape to life, by using a real-time landscape simulator from the gaming industry, that generates a landscape ravaged by storms and floods.
The exhibition EARTH will run from the 18th of September onwards. You can request a (free) guided tour to explore the exhibition through their e-mail. Or explore the works in their collection online.
AkzoNobel Art Foundation
Christian Neefestraat 2
1077WW Amsterdam
Monday–Friday
9.00AM–6.00PM
Publication date: 14 Sep '23