Two artworks of Jen Liu part of upcoming exhibition in MUSAC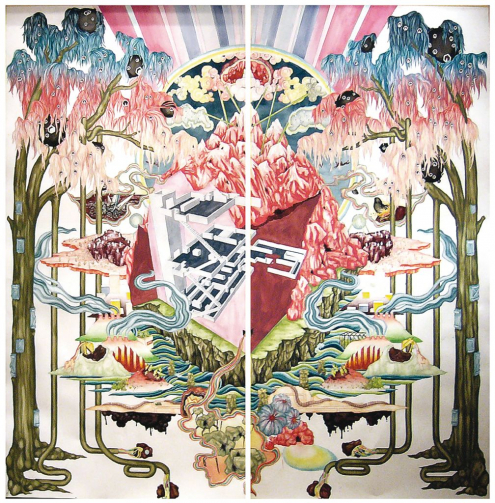 Two artworks of Jen Liu part of upcoming exhibition in MUSAC
Two of Jen Liu's artworks are featured in the forthcoming exhibition at MUSAC, the contemporary art museum in Castile and Léon, Spain. The exhibition, titled Exothermia. Semiotics of Placement in the MUSAC Collection, recreates an 18th-century gallery in order to promote research into models of exhibition and the assignment of value to works of art. As MUSAC has a contemporary collection, translation into classical genres of painting doesn't come natural, yet it forces them to reinterpret their position and find new connections and systems of classification. This series of interpretations of the collection focuses on the study of formal aspects of the museum space as a setting for other possibilities and highlights the idea of the exhibition as a tool for seduction and knowledge.
The works in question are two diptych paintings from 2006 called The Brethren of The Stone: Hear All, See All, Say Nowt. Tak' all, Gie Not, And If Tha Ever Does Owt for Nowt Do It For Thysen and The Brethren of the Stone: It is Too Late to Shut. The Stable Door After Horse Has Bolted.
The Brethren of the Stone(…)–series has been an ongoing tale, that Liu has made physical through a range of mediums, from drawings, to videos, to paintings. It's a back to nature cult that clashes with modern industrial society. Her work is a take on quasi-fantasy-science-historical fiction, in which cosmologies are created in order to engage with current and historical social strife and environmental degradation.
The exhibition will take place from June 17, 2023, to January 7, 2024.
To visit MUSAC's website and tickets, click here
Publication date: 22 Jun '23