Alicia Framis participates in exhibition "Een Lekkere Dood" at Museum Tot Zover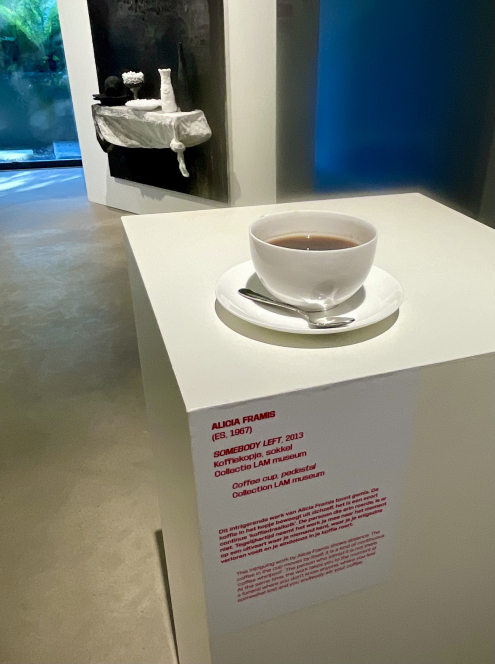 Alicia Framis participates in exhibition "Een Lekkere Dood" at Museum Tot Zover
Alicia Framis is part of the exhibition Een Lekkere Dood (Dutch for A Tasty Death) in Museum Tot Zover, located in Amsterdam. The exhibition illuminates the importance of food and drinks in relation to death. Think the Last Supper, or cake and coffee that is served during funerals. Food can both revive memories and give comfort. Het Parool elaborates (in Dutch) about the exhibition in depth here.
For this show, Alicia Framis installed her work Somebody Left from 2013. The coffee inside the cup moves by itself, instead of a person who stirs the coffee with a spoon. Through this exhibition, the work emphasizes the absence even more, evoking connotations of endlessly stirring a cup of coffee, funerals and felt absence in general. Every day, freshly made coffee is put inside the coffee cup, so the space itself starts to smell like coffee. With this type of exhibition, visitors will most likely take their own memories into the museum. Framis tries to accompany this by evoking both associations and memories through the smell of fresh coffee.
Don't hesitate to go see Framis' work, next to the other participating artists, Gijs Assmann, Raúl Ortega Ayala, Razia Barsatie, Frank Bloem, Klaas Gubbels, Remy Jungerman, Erik Mattijssen, Kiriko Mechanicus, Narges Mohammadi, Mai van Oers, Carmen Schabracq, Studio Lernert & Sander X Aux Raus, Peer Vink, Marije Vogelzang and Kees de Vries.
The exhibition Een Lekkere Dood comes to life the 09th of June, 2023 and will finally depart the 11th of February, 2024.
Publication date: 9 Jun '23